There's no doubt Koffee with Karan has always been one of the most controversial TV shows out there that let celebrities in trouble for their spicy answers and revelations.
Season 7 has been a great start with the appearance of Bollywood elite actors that raised the bar.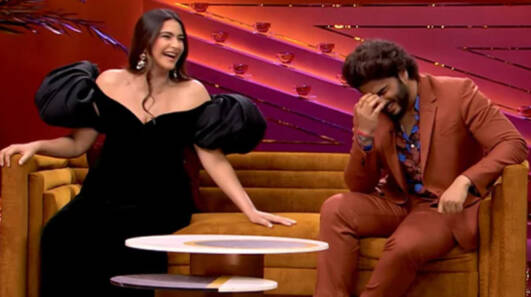 But looks like things might go into hot boiling water because in the upcoming episode Sonam Kapoor and his cousin brother Arjun Kapoor arriving.
The recent teaser of the episode, exhibited Sonam again driving into the trouble wall where she made the big revelation about Arjun Kapoor.
Sonam Kapoor dropping the bombshell on Arjun Kapoor
The forthcoming episode shows a very pregnant Sonam in a black gown seated on the Koffee with Karan couch alongside Arjun, who sports a tan jacket. Kareena and Sonam share a similar reputation for being one of the most controversial guests at the Koffee with Karan.
Sonam's honest and straightforward comments have always dropped her into the hot boiling water and even her confessions also made it to the headline as well.
Out of nowhere confession about her brothers left everyone speechless. As she reveals that her brothers have "slept with" all her friends and that between them, "there is no one left." Scandalized, Arjun inquires, "What kind of sister are you?
What are you saying about us?" He goes on to say that he feels he's been called on the show to be trolled by Sonam. "Sonam is back, ladies and gentlemen!" he declares.
Clueless Sonam
Before making such a shocking revelation about her brothers, she was fully clueless about the name of Ranbir's upcoming film the INR 300 crore, 10-years-in-the-making epic, Brahmastra.
She describes it as "Ayan's film". But the co-producer Karan Johar jumped in and asks her if she knows what it was even called.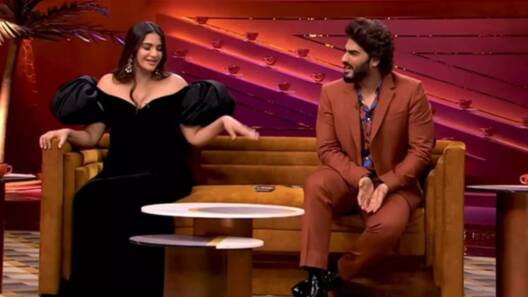 Struggling to recall the name, she says, "Shiva number 1." Arjun face-palms, sighs, and tells her, "You're a mess, yaar Sonam."
The teaser reveals a little bit about Arjun where Karan asks Arjun to share how he has saved girlfriend Malaika Arora's number on his phone. The actor reveals it's simply saved as Malaika because he likes her name. A few months back, Arjun Kapoor came forward and talked about dating Malaika Arora.
He also speaks about how self-obsessed his cousin Sonam is.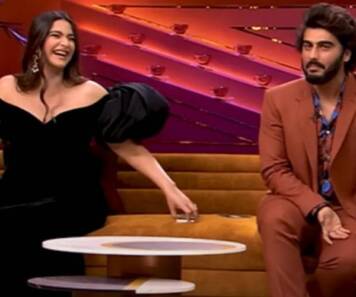 "She doesn't wait for others to compliment her," Arjun jokes, to which Sonam says that it's because she's Anil Kapoor's daughter.
Karan Johar earlier made a big revelation that none of the Khans are not coming in this season, but with surprisingly Aamir Khan and Kareena both appeared.
What do you think of the story? Tell us in the comments section below.