Footage of Ahsan Abbas, the son of a former provincial minister and PTI ticket-holder in Sialkot, along with his accomplices thrashing a Nadra office in charge and other officers over 'being denied protocol' emerged on social media. Police have reportedly registered a case.
Abid Abdul Rehman, in charge of the Nadra office at Chawinda in Pasrur tehsil, complained to the Phalora police station that Abbas and his accomplices stormed the office and tortured him. He said Abbas first called him on Feb 18 and asked him to facilitate him in making voter ID cards.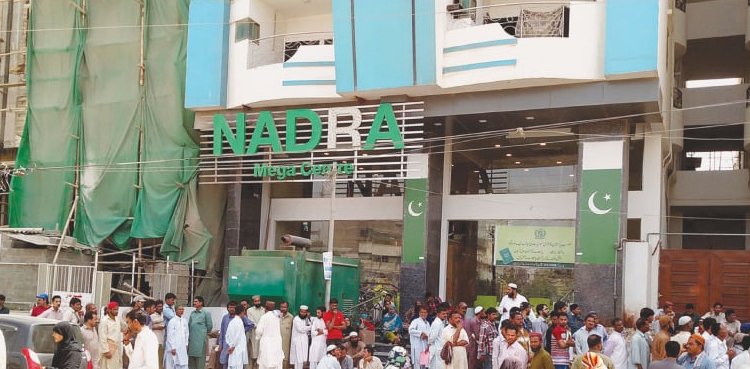 The complainant said he told Abbas that all citizens who visit the Nadra office were equal before him, over which Abbas flew into a rage and started abusing him and threatened him.
"After some time, Abbas, his right-hand man Shaukat Mitla and five other people entered the Nadra office and he grabbed me by the collar and slapped and abused me," said the complainant.
The Nadra in charge said senior officers Abdul Rehman and Mohammad Taqi tried to rescue him but the assailants tortured them also. The suspects, he said, disrupted the office work and ransacked furniture.
Police registered a case against Abbas, Mitla, and five others. Meanwhile, people protested against hooliganism at the Nadra office and demanded the arrest of the suspects. Sialkot District Police Officer Muhammad Hassan Iqbal said raids were being conducted to arrest the suspects. He said the case would be investigated on merit.
Take a look at the viral footage:
This is, however, not an isolated incident. Many similar incidents have occurred in the past. A ghastly turn of events that took place in Karachi's chief mobile market last year, demonstrated a reprehensible act of power abuse.
A Pakistan Tehreek e Insaf (PTI) lawmaker, the PTI MNA Aslam Khan was seen thrashing a mobile market staff while his guards pointed guns at the shopkeepers. Footage of the incident showed the MNA barging into the shop and after a rift resorting to physical assault on the shop staff. 
A few years back, a relevant incident occurred when PTI's leader, Mansoor Ahmed Sheikh went viral for allegedly abusing and beating the staff members of a showroom. Sheikh along with his cousin SSP Malir Munir Sheikh tortured abused and kidnapped the staff members. In addition, about Rs7million had reportedly been stolen from the showroom as well.
Read More: Twitter Blames Marriyum For Playing Victim As Her Old Video 'Pushing A Man' Goes Viral!
What do you think of this story? Let us know in the comments section below.