Disclaimer*: The articles shared under 'Your Voice' section are sent to us by contributors and we neither confirm nor deny the authenticity of any facts stated below. Parhlo will not be liable for any false, inaccurate, inappropriate or incomplete information presented on the website. Read our disclaimer.
As a devoted fan would say, he's an inspiration, a commendable cricketer and one of the well known prides of Pakistan. As for my point of view, I would say, from an objective perspective: In all aspect of the meaning of the word, this man and his narrow minded views shine a bright light to the term 'sexism.'
Recently, an interview had taken place where Mr. Afridi was told about the young brilliant cricket women of our country. To which his response was and I quote directly : "Yaar, humari khuwateen ke na, humari khuwateen ke haath mei maza bohot ziayada hain. Toh, khaanay bohot achay banaati hain." (Roughly Translated in English: Our women's hands possess an attribute of fun/taste. So, they make very good food.)
Upon giving this audacious response, the interviewer tried to receive a general opinion about the under-19 women's cricket team in Peshawar and their excitement to play such a sport, and he simply dismissed the question by stating: "Thank you. Bus. Khaana acha banaati hain." (That's it. They make good food.)
Read Also: Shahid Afridi Expects Pacer Naseem Shah To Make His Debut Memorable
Now let me ask you this Mr. Afridi, would you neglect the teachings of a female teacher? Would you neglect the treatment of a female doctor?
Would you neglect the courage and skills of a female soldier? Would you neglect the countless achievements women have made and sum it up by saying they belong in the kitchen and that they cook good food?
I DONT KNOW WHAT OFFENDS ME MORE, THE FACT THAT HE HAS SUCH A BACKWARD AND OFFENSIVE PERSPECTIVE ABOUT THE OTHER HALF OF THIS NATION, OR THAT HE SO EASILY AND WILLINGLY WOULD ANNOUNCE IT IN PUBLIC.
That's how much confidence you give him when you cheer for him while watching cricket matches and it's one thing to say that "Oh he may be an awful person, but he's still an amazing cricket player." Wrong. WRONG. This mentality to presume that women are subservient to him, and that he can say whatever the he pleases, baffles me even though when the majority of this country gives him the permission to do so, that's what baffles me tenfold.
We can NOT allow the minds of the likes of him to be brainwashing the majority of this country. Being a well known celebrity, people assume that it's perfectly fine for him to have such an offensive view and be even better that as long as he's an amazing cricketer and makes our country win the championships, we will cheer him on.
I do not appreciate limits being placed on my education, on my capabilities, abilities or my achievements and I would appreciate it, if you would keep these hurtful, disgusting and outraging opinions to yourself. You of all people should be one to consider the large female fanbase you would be losing unless you did otherwise. So, be fair to them and fair to all the beautiful and talented women in your life as well as of your country and try refraining from such derogatory and insensitive comments.
Thank you.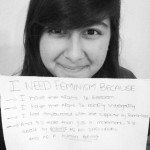 Hijab Gillani
A'Level Student
Karachi, Pakistan.