Civil awards conferred upon 44 individuals for their meritorious services in their respective fields to their nation on Monday. President Dr. Arif Alvi conferred the awards on them at an investiture ceremony at Aiwan-e-Sadr in Islamabad. Moreover, Pakistanis demand Sitara-i-Imtiaz for the heroes who risked their lives in the PSX attack.
Originally, the awards were supposed to be given on March 23, 2020. However, the ceremony postponed due to the outbreak of the COVID-19 pandemic. Pakistan civil awards conferred in recognition of their gallantry, meritorious services to Pakistan. Also for showing excellence in their respective fields.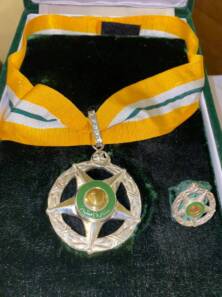 Moreover, the president conferred awards in seven categories. This included; Hilal-i-Shujaat, Hilal-i-Imtiaz, Sitara-i-Shujaat, Sitara-i-Imtiaz, Pride of Performance Award, Tamgha-i-Shujaat, and Tamgha-i-Imtiaz.
Among those who were decorated with the Sitara-i-Imtiaz award included Prof. Javed Iqbal, Dr. Asif Mahmood (USA), Najeeb Ullah Ghauri (USA), Dr. Pavel Bem (Czech Republic), Professor Dr. Ayub Sabir (Education), Dr. Kamran Vasfy (Medicine/Dentist), Ahmedullah and Rehan Hassan. As well as the Chief Executive Officer of Peshawar Zalmi cricket franchise, Muhammad Javed Afridi.
Essentially, this award in particular is the third-highest honor and civilian award in Pakistan. In addition to this, it recognizes individuals who have made an 'especially meritorious contribution to the security or national interests of Pakistan, world peace, cultural or other significant public endeavors'.
It is to be noted that Sitara-i-Imtiaz is a highly restricted and prestigious award. Only given to those who have done great services to the country.
Unfair distribution of civil awards
Coming towards the main concern; why did all these people receive this award? What exactly did they do for the country? Pakistani are questioning what these personalties did to deserve such an honor.
Pakistanis cannot believe why only these people got bestowed with a national award. Whereas, the Sindh police constables who risked their lives at Pakistan Stock Exchange (PSX) did not get recognized.
Constable Khalil and Constable Muhammad Rafiq were the two brave heroes. They neutralized the group of violent terrorists. They killed every one of them in the PSX attack who must be awarded Sitara-i-Imtiaz.
These brave policemen who risked their lives for the sake of protecting many more of Pakistanis. Yet, a CEO, a professor, a dentist, and others have been awarded Sitara-i-Imtiaz.
Moreover, the sacrifice and bravery of these soldiers are beyond commendable. Kudos to their courage that saved us all from a horrifying massacre that could have taken place at the PSX.
Pakistanis could not be more appalled!
What these soldiers did is truly heroic for Pakistan. We could not be more proud of them. Regardless of whether they are appreciated by the government or not. May they both live long and prosper!
What do you think of this story? Let us know in the comments section below.