Passing of a dear one and that too of your own family member is a grave loss, one that leaves a gaping hole in your heart. Life doesn't wait on anyone nor is it generous enough to stop the hands of time until you recover. You have to continue on with your chores with a heart that hasn't healed.
Even if your close one's suffering from a fatal illness, no amount of mental preparation can save you from the inevitable shock, when they finally resign from this world. It's even more of an emotional blow when they meet a sudden accident. The senses do not register the unexpected demise and it becomes a lot to take in.
A heart-wrenching story is circulating on the internet. A sister has taken it to social media requesting everyone to make dua for her brother who met a horrible road accident that took his life.
He was going from Khairpur to Bahawalpur when his car crashed into a huge trailer truck. Everything happened so suddenly and with such high collision that his head severed from the rest of his body.
Her Post Read:
"My brother Muhammad Yasir left this world after a car accident. I beg all of you to pray for my brother that may Allah creates ease for him. Ameen. When his body arrived home, his head was severed from his body. That moment and that picture never leave my eyes. I am in a lot of pain. May Allah makes it easy for him. Ameen."
The Original Post Shared By A Facebook Page: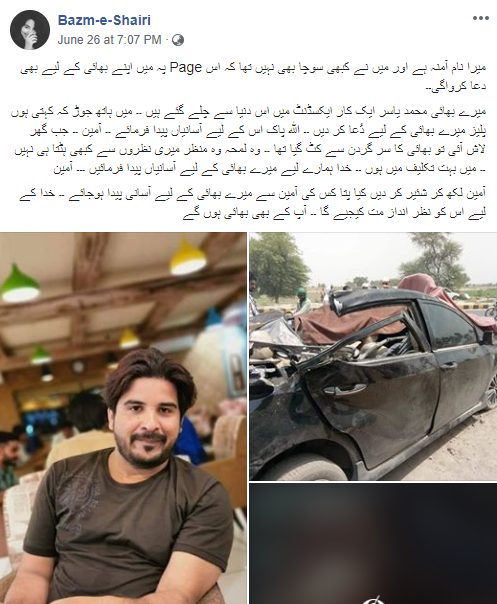 Video Of the Place Of Accident:
Merry pyary dost #yasir aj road accident main hm sb ko chor Gaey plz unki maghfrat k okay dua kijiay ga

Posted by Liaqat Ali Khan on Saturday, June 22, 2019
In the end, she again requests everyone to share this post because you never know whose prayer might get accepted by Allah SWT of making the journey onwards easy for her brother. As Muslims, we are well aware of the reality of this world (Dunya) and the significance of hereafter. The questioning that follows right after a Muslim's burial to the day we will be resurrected and presented in front of the Almighty – It is far more important than this temporary place which we invest so much in, indulging ourselves to the point that we deviate from the main purpose of our existence.
Her post is a stark reminder of how short our life is and makes us question, have we prepared enough as Muslims to be able to enter Jannah (paradise)?
Let's all pray for Amina's brother that Allah makes it easy for him and forgives him of all his sins that he may have committed consciously and unintentionally. Amen!
Also Read: A Horrifying Accident Took Place At Gorakh Hill Station, Sindh, And Tourists Need To Be Very Careful!
Would like to add something? Let us know in the comment section below!