An elderly woman who is 70-year-old by the name of Aalima has lived her entire life on a boat with her family. Aalima belongs to the Mir Bahr tribe of Sindh, known as the 'King of the River'.
Speaking to Independent Urdu, Aalima said he spent her whole life on the boat. She just loves the river. Eating, cooking, covering, and lying in the boat gives her comfort. Life outside the river seems strange to her. She would love to live in a boat as long as she lives.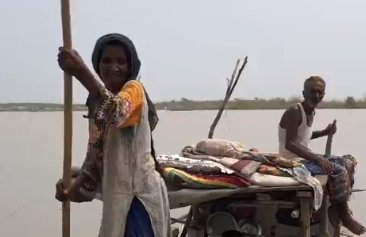 "I was born in a boat. My marriage also was in a boat and my 11 children were born here. I will spend the rest of my life here and hope to die peacefully."
The 70-year-old woman does not remember the year in which she was born but has spent her entire life on a boat selling fishes. But Aalima does remember that she was born two or three years after the formation of Pakistan. Her date of birth is written as 1950 on her identity card.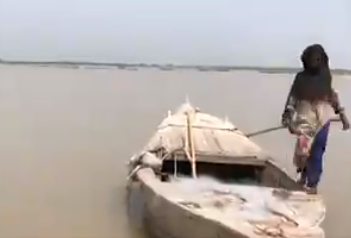 According to Aalima, four of her eleven children had died when they were very young. The three sons and four daughters of Aalima, who lived on the boat in the Indus River adjoining Naudero in Larkana district of Sindh, are all married. All of her children have built houses in different cities and villages. However, their livelihood is still fishing.
After getting married at the age of 10, Aalima started fishing and boating with her husband, Abdul Karim. Her husband is crippled in one leg, yet he helps her with boating and fishing.
'We make a living by selling fishes we catch from the river'
Most of Aalima's abode is on the left bank of the Indus River at Bara Pattan in Katie Mumtaz Ali Bhutto, two kilometers from the town of Naudero. She sets nets in the river at night to catch fish. During the day she carries passengers from Larkana district to Khairpur Mir district.
Aalima further said that sometimes a kilo or even more fish are caught in their nets. They make a living by selling those fish. They also get some money from the passengers.
Aalima added she spends her days and nights on her boat. She is healthy and sails despite being a grandmother. Aalima said only during Eid holidays, she goes to the city to visit her sons, daughters, grandsons, and granddaughters.
According to her, in the recent monsoon rains, the Kacha area inundated due to more than normal floods in the Indus River. Aalima said that the 2010 floods created massive destruction in her area. It killed a few residents of the area and also a few animals. Fortunately, Aalima was able to save a few of them through her boat. What an inspiration!
What do you think of this story? Let us know in the comments section below!