In Pakistan, when one thinks about street crimes Karachi is the place where mind goes. Media has stressed on Karachi's crime events so much that it has become a stereotype.
When it comes to street crimes in Karachi, we often blame the Sindh Police for their inefficiency. However, a rare incident recently occurred in Karachi where the police illustrated how efficient and effective they can be.
On Thursday, a snatching incident took place in Karachi's Federal B Area, Shahra-e-Pakistan block 6 opposite Green heaven building. Two young boys riding on a motorcycle tried to rob a citizen who was sitting on his motorcycle.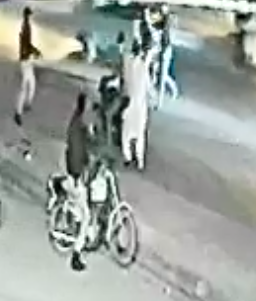 Luckily for the citizen, police were on duty in that particular area. They caught the robbers red-handed. The robbers were trying to escape from the incident. However, the police were quick to catch the criminals.
They risked their life and ran straight after the criminals on the road. One of the robbers was shot dead on the spot while the other one was arrested. Thankfully, neither the victim nor anyone of the other drivers on the road got any harm due to the incident and everyone was safe.
Pakistani social media users appreciated the efforts by Sindh Police. One of the users said that he was happy to see such videos when police successfully catch the criminals.
Another user appreciated Sindh Police with a thumb emoji.
Street crimes are increasing in Karachi. What is the solution?
The snatching incident in FB Area is one of the several recurring incidents in Karachi over the last few years.
A bunch of street criminals thrashed an old lady in Karachi during a snatching attempt and the CCTV footage was brutal. The incident took place on Tipu Sultan Road, Karachi.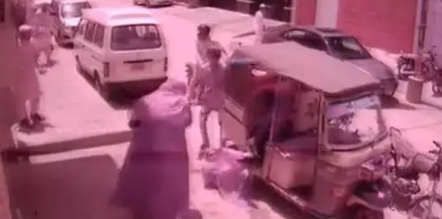 Street crimes are a usual thing in every part of the world. No country is perfect and there will always be people who will try to make your life miserable. Nonetheless, there will also be an efficiently working police force that has vowed to provide security to the public.
The police do try to protect citizens from all perpetrators. Moreover, we also have to accept the fact that there has been a significant decrease in the crime rate in Karachi. Our police needs your help in this Karachi street crime to prove that nobody can act above the law in Pakistan.
When asking for a change in the system, how can we expect a revolution when we cannot stand up against a common evil? For now, let us stand together against these street criminals. Let us help out our police force in every way we can!
What do you think of this story? Let us know in the comments section below!