The Sindh government decided to reimpose coronavirus restrictions from Monday onwards as the positivity ratio crossed 10%. Now, shopping malls and markets will be allowed to operate from 6am till 6pm. However, grocery stores, bakeries, and pharmacies will be allowed to remain open.
The Pakistan People's Party (PPP) government also decided to ban marriage halls and other functions. It was also decided that shrines in the province will be closed.
Meanwhile, indoor and outdoor dining will be closed in restaurants. They will only be allowed to offer takeaway and delivery services.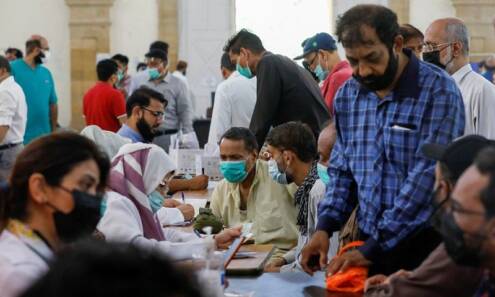 Moreover, education centers will be closed across Sindh from Monday onwards, but exams will be held as per schedule.
The decision came following a meeting of the provincial coronavirus task force chaired by Sindh Chief Minister Murad Ali Shah. The Sindh health secretary informed the meeting that the positivity ratio of the province has climbed to 10.3%. While the provincial capital's ratio is at 21.58%.
Mobile sims of unvaccinated people to be blocked?
Meanwhile, the Sindh government has decided to write the National Command and Operation Centre (NCOC) and the Pakistan Telecommunication Authority (PTA) to get the mobile sims of unvaccinated people blocked as the fourth COVID-19 wave grips the country.
Adviser to Advisor to CM, Murtaza Wahab the Sindh government has decided to approach the NCOC and the PTA that mobile sims of unvaccinated people should be blocked.
Earlier this month, the government of Pakistan had threatened to ban air travel for 'unvaccinated' people amid the current fourth wave.
The spread of the coronavirus Delta variant is reaching alarming levels in Karachi on the eve of the Eid-ul-Adha holidays. Public and some private sector hospitals are reaching capacity and have started refusing patients, medical officials said on Tuesday.
The Sindh government earlier said the COVID-19 situation in the city is becoming serious. It also had warned people that ignoring precautionary measures during the holiday could make matters worse.
What do you think of this story? Let us know in the comments section below.