Our lifestyle today involves us getting exposed to many harmful radiations and chemicals. As if the rays from various electronic devices aren't harmful enough, we also have to combat dangerous and toxic chemicals in our beauty products.
So the next time you use that great-smelling moisturizer, think again!
 It is nearly impossible to stop using certain products as they are an essential part of our daily routine, such as toothpastes, face wash etc. So what you CAN do instead, is to add them in your life in a slow and steady way.
Opt for more natural and simpler products. Products containing chemicals as SULFATES, PERFUMES, PARABLES and PARAFFIN help in keeping clean.
Here's are some simple and personally used alternatives for chemical laden beauty products!
1. Face Wash
Replace your usual face wash with this amazing DIY wash. Not only is this cheap and easy to make but it is also loaded with many nutrients!
Things you need: 1 tbsp Dried peels of lemon or oranges (dry them in sunlight and finely blend, sieve the powder)
1 tbsp gram flour1/4th tbsp turmeric
Optional: Ground Almond powder or oatmeal
Directions to Use: Before washing your face, take a little bit in the palm of your hands and rub in slight circular motions. Now wash off with warm water. You can make a mixture with lemon, rose water or milk – whatever you feel like! You can alter the ratio if your skin is dry. Add less turmeric if you feel it leaves a stain
2. Cleanser
Naturally, milk is the best cleanser anyone can find. Take 2-3 tbsp of fresh milk and dip a cotton ball in it. Slightly rub it all over your face. Leave until dry and then wash off with warm water. You can do this preferably at night. This is best suited for both dry and oily skin.
There's a reason why Cleopatra used to take a milk bath!
3. Beauty Scrub
Make a home made scrub with naturally exfoliating materials:
Add a spoon of lemon juice in granulated sugar. Mix to form a paste and apply on your skin. Do not rub harshly, but only in small circular movement. Rinse with warm water.
Mix ground coffee with olive oil and apply softly on skin. This can also be used on body.
4. Toner
A toner is an important part of beauty regimen to balance the pH of the skin.
Rose water and Apple Cider Vinegar are the best natural toners you can get. Also, you can use ice or cold water to quickly tighten up your pores and tone your skin.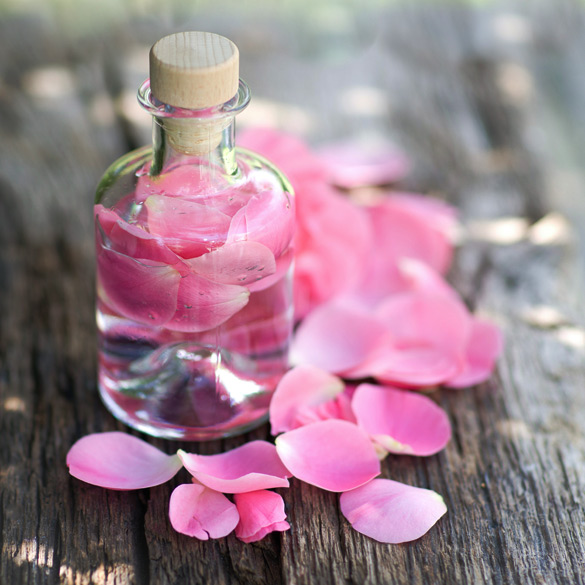 5. Moisturizer
Every night before going to bed, use a mixture of oils such as Coconut oil, Almond oil and Vitamin E oil to nourish and moisturize your skin. Slightly massage on your face, hands and feet for a smooth and glowing skin.
6. Lip Balm
Ingredients: Almond Oil or coconut oil
Granulated sugar/ brown sugar
Salt
Petroleum jelly (Vaseline)
Mix these ingredients and put them in a small jar. Now apply a pea sized amount on your lips and slightly scrub.
Wash or clean with a  cloth and you're good to go!
7. Make up remover
Use a mixture of coconut oil and baby shampoo to wash off your make up. You can use any oil to do the same function. Just apply and massage and then clean with some tissue/ cotton.
Plus point: You are moisturizing your skin while you are removing makeup! Its a win-win situation.
Although this guide is very brief, there is a vast range of harmful products out there. The best way to handle this situation is to be aware of what you are putting onto your skin. Read the labels and research the products.
Better be safe than sorry!