Gorgeous eyes, tall and extremely good looking, Ahsan Khan has been a part of the Pakistani entertainment industry from quite some time now. After making his debut in 2001, Ahsan performed as notable characters in a number of TV serials, including the recent super hit Hum TV serial, Udaari.
Based on the story of a young girl becoming prey to the filthy desires of her step father and going through child rape torture, the drama created much hype in light of a social aspect that needs to be highlighted. Ahsan Khan played the role of the vulture, depicting largely what happens in many parts of the world, especially in Pakistan.
Despite his vicious role in Udaari, Ahsan Khan is more than an actor – the man is now striving to work for social causes outside his working career.
There was a lot of buzz in media when Ahsan Khan donated 20% of his earnings from Udaari to child abuse victims. However, that was just one of the good deeds the man is capable of doing.
Helped An Old, Educated Man Get A Job
Earlier this year a video of a poor, well-educated man asking for a job went viral on social media. The man was interviewed by Ahsan Khan himself and once Ahsan uploaded the video, he requested people to take action in to help the man out in terms of getting a job he much deserved.
Using the positive side of social media, a company finally heard the man's pledge and offered him a job.
We finally gave him a job with a warm accommodation. It's not how much we give but how love we put into giving. pic.twitter.com/Rr7FTS3arz

— Amtech Systems (@amtechsystemspk) January 8, 2016
Active Part Of Kashf Foundation
In association with Kashf Foundation, Udaari did wonders highlighting child rape and eliminating it as a taboo. After the show ended on a high note, Ahsan Khan still volunteers his services to the foundation itself. For instance, the recent event organized by Kashf Foundation was based on acknowledging efforts of women all around Pakistan who, after many hardships in life, make a living for themselves through their talents and through the support of Kashf Foundation. Ahsan Khan was there to award women and contribute his role in the cause.
Promoted Cafe That Highlights Child Abuse
A local cafe named Chai Shai in Karachi drew images of Ahsan Khan's character Imtiaz in order to contribute in promoting child abuse. Ahsan wasn't reluctant in giving a cafe a visit and promoting it on social media.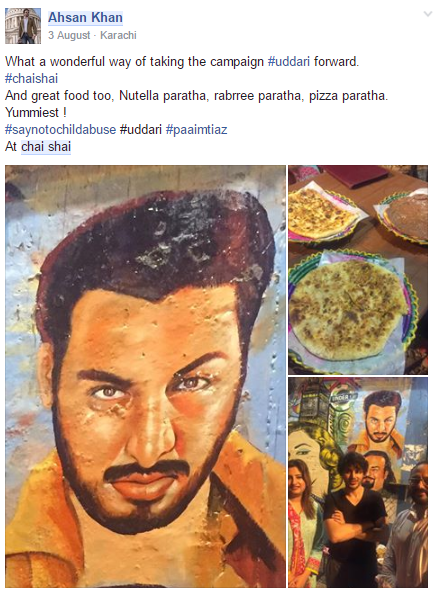 Actively Plays Role In Rizq – An Initiative By Students To Feed The Poor
Rizq is known as an initiative started by students of LUMS, striving to do something better in for our society. They collect donations and then collectively feed the poor in Ramzan and other days of the year.
These are the same people who find it difficult to make a living for themselves. Ahsan Khan happens to be a part of this cause.
He Coined The Idea Of "Wall Of  Kindness" In Karachi
Inspired by the concept that was practiced in Iran, Ahsan thought that Pakistanis need to do something similar in our country. He donates a decent amount of clothing for the wall frequently.
In Addition To All The Charity Work, Here's One More
Jazak'Allah on all the contributions and donations made by Ahsan Khan so far. May Allah grant him with the best for his efforts.