Disclaimer*: The articles shared under 'Your Voice' section are sent to us by contributors and we neither confirm nor deny the authenticity of any facts stated below. Parhlo will not be liable for any false, inaccurate, inappropriate or incomplete information presented on the website. Read our disclaimer.
Another honor for Pakistan as a 15-year-old guy becomes world youngest mystery/thriller, writer. Sibte Ali completed his novella "The Next Generation of Bakers Street" and was titled with the youngest mystery writer world has ever seen. A 9th grader at APS fort Road, Sibte Ali is going viral on Facebook and other social networks.
Sibte Ali had a keen interest in books from an early age and was totally different from nowadays kids who are only interested in video games. One day he came across Sherlock Holmes literature and he was quite impressed by deduction skill. Soon he was done with all of Sherlocks novels and short stories. Seeing his interest in Sherlock, one of his friends shared the BBC film made on the great detective.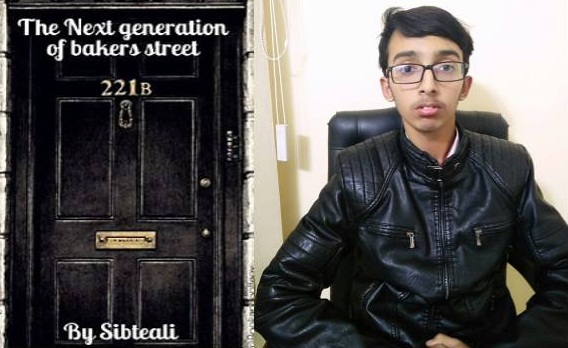 After watching it, his mind started wondering that what would have happened next. Well, he was unable to find the solution in Sir Arthur Conan Doyle's series, so he decided to write his own solution.
He decided to write a novella on Sherlock's grandchildren, not only Sherlock's but also his siblings' grandchildren (about whom he had read in other fanfictions). He started writing on Wattpad an online free story sharing platform where he got considerable praise and widespread readers (from over 29 countries). Not only that his book was ranked 123rd among millions of book present there.
15سالہ پاکستانی مصنف کی کتاب نےدنیامیں کامیابی کےجھنڈےگاڑدیے، ویڈیو دیکھیںتفصیلات جانیے: http://stateviews.pk/246590/

Gepostet von State Views am Sonntag, 3. Dezember 2017
Seeing this Sibte Ali decided to take it a step further and published it on Amazon, soon he was featured in the brief and his achievement shared by a lot of Facebook pages. He also had an interview with a web portal 'The State Views'.
Talking about his book its basically a mystery/thriller novella, featuring Oliver Holmes (grandson of Sherlock Holmes) as the lead character along with his cousins Katie & Allen he joins his new university where he came to meet up with some of his relatives who previously thought that Allen, Oliver, and Katie had died years ago. Oliver decides to dig into this mystery when another secret pop out and his parents are murdered by their family enemy Crow. Oliver together with his relatives joins up to form Team Holmes to take revenge from Crow.
A truly entertaining novella is a part of series 'The detective' by Genes depicting the life of Oliver Holmes. The writer is writing his second part of Sherlock's revised edition.
Read Also: Attention Writers; Pakistan's First Poetry Slam Comes To Karachi!