WARNING: Some viewers may find the content of this story disturbing. Viewer discretion is advised.
To date, the transgenders in our society face different forms of abuse, ranging from exclusion from society to brutal murder. For decades, they have subjected to trafficking, extortion, and forced prostitution. They are sexually and physically abused. Such brutality can be seen in a recent video that surfaced on social media. A group of influential men brutally tortured an innocent transgender in the Siranwali area of Sialkot Police Station.
Brutality reaches a new level each day as the lives of humans become of little to no worth. Regardless of being a free state, people in Pakistan are still throttling with the chains of condescension, disgust, and a lot more hatred; that too, for unnecessary reasons.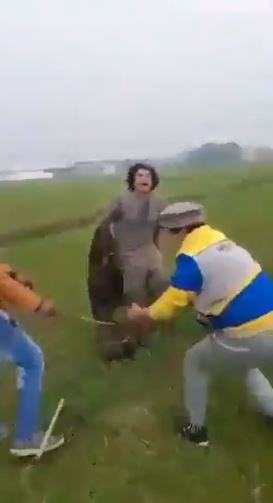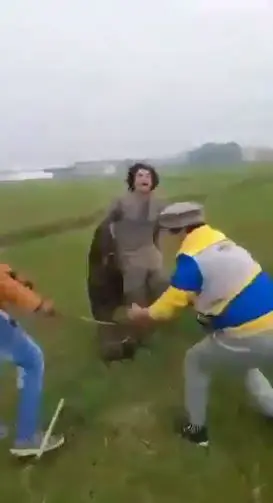 A similar apocalyptic incident took place in Sialkot as a group of unidentified persons inhumanely tortured a transgender person.
This entire havoc once again raises a lot of questions about how the lives of these poor trans persons are in jeopardy. Pathetically so, there is no one to provide them any form of comfort.
While the poor transgender pleaded and begged for her life, a group of monstrous men continued beating him with sticks. As saddening as this news is, what we find more upsetting is how no one has yet taken any action against the beastly culprits. The traumatic incident came to light earlier today, on Friday.
WARNING: Some viewers may find the content of this story disturbing. Viewer discretion is advised.
Here is the video
Human rights violations and discrimination on the basis of gender identity are still prevalent. Moreover, it mounts a big challenge for Pakistan. The transgender community and other marginalized minorities face stigma, discrimination, and violence much more than non-marginalized groups.
After years of being subjected to inhumane discrimination, Pakistan's transgender community is slowly and gradually making its way to mainstream media. However, even then some beasts threaten and oppress daily in order to prevent them from progressing. Sadly, no permanent action has yet been taken to reprimand or avoid such harsh incidents from occurring in the future.
In a similar incident recently, Rimal Ali, Pakistan's first transgender model turned actor and professional dancer was recently attacked, tortured, and harassed in Lahore. In a video statement, Ali disabused an influential person's identity. He had been mentally and physically torturing her for a long time.
Evidently, so many transgenders become a victim to unspeakable violence without any law or regulation to favor their rights. We hope justice is not denied in this matter and the authority takes an action!
What do you think of this story? Let us know in the comments section below.