Social media influencer and former adult star Mia Khalifa has once again gone viral but this time for a very not-so-shocking but disgusting video. You too will be grossed out!
The Internet was left feeling sickened to the core after watching the latest video of the influencer that has emerged on social media. As it appears, the Lebanese-American took her puppy out for a stroll. However, the little pup decided it could not hold it in any longer.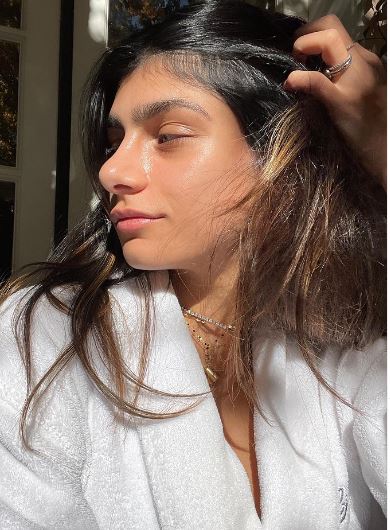 In the horrific video, Khalifa can be seen using her mask to pick up her dog's poo. But wait… that is not even the disgusting part. After picking it up and throwing it in the bin, she literally put the mask back on her face. Well, it did not take long for the video to go viral.
In fact, you know what, even the pup was wearing a mask. However, she chose to use her own mask to pick up its poo. The 27-year-old unapologetically took off her mask, scooped up the apparent poo before dropping it in a nearby bin.
Can you even imagine? She put the same mask back on and resumed her walk like nothing even happened. Khalifa is pretty famous on the internet based on what she used to do, this latest video of her came out as a surprise to many.
WATCH: Here is the gross video
Khalifa and her dog poop video went viral on TikTok. More so, it has been viewed millions of times before being shared on other social media platforms. The video was posted by TikTok star Benny Blanco who captioned it, "I just saw @miakhalifa put poop on her face".
But wait! Mia Khalifa responds
While responding to all the shock, the influencer said on her Instagram story,  "At least I'm not an anti-masker."
On her own account, Khalifa added, "I just got back from traveling and I have to walk my dog so, safety first, everyone has to wear a mask."
In addition to this, she wrote, "Please don't shame me for not littering AND wearing a mask, which is the LAW in West Hollywood."
The Internet is a funny place. According to some people, the video is apparently a hoax, with both parties looking for publicity. However, others believe that they just witnessed something truly vile. On the other hand, some called it a mere stunt. LOL.
From what it appears, it does not really seem like a joke or any such stunt, she literally put on the poo mask back on her face. Who on earth does that!
Last year, the former Lebanese-American adult star took up a social trend when she did the "Gonna Tell My Kids" trend trolling Nobel peace prize winner Malala Yousafzai. In fact, she once even compared herself to Yousafzai and left everyone speechless.
What do you think of this story? Let us know in the comments section below.