Shoaib Akhtar indeed had a journey off and on the pitch. Known as the Rawalpindi Express, Akhtar was a player who reached his prime. A fear towards the bowlers around the world, Shoaib Akhtar surely had a remarkable career.
Even in terms of his personal life, Akhtar has made his own choices. Four years ago, Akhtar married the love of his life, Rubab. She was 20 years old when the two tied the knot. The wedding, however, wasn't really grand and was taken as a secret affair – only close friends and family members were there.
Years Later, Akhtar and his Wife Haven't Made Many Public Appearances Together Unlike Many Celebs!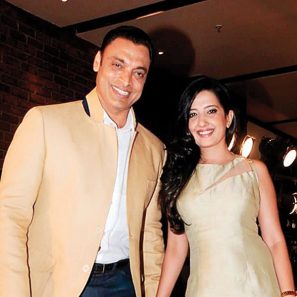 Maybe they are just keeping the marriage away from the public eye and well, that's good for them. A lot of people stated that the marriage wouldn't work because it was done in a very hidden manner and that the wife is pretty younger than the Rawalpindi Express.
So Recently Akhtar Shared How he Had to Let Go of his Favorite Memory Because of his Wife
Nothing dramatic, tbh. We were just messing with you!
Shoaib Akhtar was talking about his favorite shirt that his wife threw away.
#Throwback to my favourite T shirt that was thrown away by my wife ☹️#Shoaibakhtar #throwbackthursday #Tshirt #White #imissit #Rawalpindiexpress pic.twitter.com/CuhOtAJi01

— Shoaib Akhtar (@shoaib100mph) January 4, 2018
In case you didn't catch the memo, when it comes to the wife making the decisions, nothing can stop her.
And Some Pakistanis Mentioned the Same to him
That was ur favourite shirt……? I think it's good if she has thrown that ?

— Faiza Khan (@faizagulkhan) January 5, 2018
Love is life ,,,life is wife ,,,and wife is full of tension …..hahahahah….

— ZaidBaloch (@ZaidBal52436186) January 5, 2018
All jokes aside, we would love to see the couple make some sort of public appearance because we really do admire Pakistani cricketers and their couples!