You know what they say? One should keep quiet about the things that they are unaware of!
It's true. Even though, a few rare times we can get away with BS-ing our way away, but sometimes we can get caught in the web of our own words and be presented as idiots to the world.
Shilpa Shetty has, unfortunately, come under fire for a ridiculous statement that she made aboutAnimal Farm; the famous classic by George Orwell!
Animal Farm, which is a book based on the Russian revolution, used anthropomorphized farm animals to get the point across. Shilpa Shetty, in her probable confusion, thought that the book is about farm animals and loving them.
Maybe there was a misprinting or confusion of sort during this. We never know. But the internet doesn't care!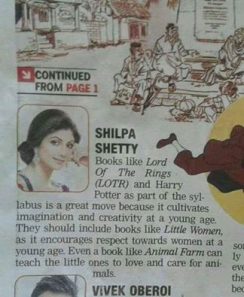 It took just a little mistake for Twitter to go batshit
The Celebrity Big Brother winner was made the target of ridiculing tweet within hours of the above statement's publication. #ShilpaShettyReviews started trending on Twitter that explored how Shilpa Shetty would review a book based on its title.
Hunger Games is basically about Karwa Chauth
The Hunger Games is a great series on Karwa Chauth. #ShilpaShettyReviews

— Nirwa (@nirwamehta) November 28, 2016
and Fifty shades of Grey is a really great coloring book
https://twitter.com/a_bit_too_much/status/803154407328190464
Them Factor VIII deficiencies
https://twitter.com/peeteeonyou/status/803154366609788928
3.14159
The Life of Pi should be read by all children as it will enhance their mathematical skills. #ShilpaShettyReviews

— Patel Shashank Singh (@RccShashank) November 28, 2016
LORD of the rings. Get it? Get it?!
"The Lord Of The Rings is the best autobiography of Bappi Lahiri ever." #ShilpaShettyReviews

— Hideous Kojima (@scaryhairyman) November 28, 2016
Ye olde classics
Oliver Twist is about wringing olives #ShilpaShettyReviews sorry

— sir (@4ngery) November 28, 2016
But, amongst all the noise, these two got it right!
Twitter: a new space to discredit women by attacking their intellect before examining other possible sources of error #ShilpaShettyReviews

— Hamna Zubair (@hamnazubair) November 28, 2016
*sees the #ShilpaShettyReviews trend*

*has no fucking clue of what Animal Farm is*

*Googles it*

"HAHAH SHILPA SHETTY SO DUMB BETCH LOLOL"

— Akshar (@AksharPathak) November 28, 2016
It might have been an honest mistake on her part, who knows! What do you think? Let us know in the comments!