Oral health is not just a nice smile, but it is a necessity for a healthier, nourished and active lifestyle. Most of the body's health patterns are based on what one takes and the starting point is the mouth. The healthier the gums and teeth, the better one chews and eats. Nevertheless, experiencing bad breathe is one of the major reason for poor oral hygiene, medically called halitosis.
Oral health care is the least priority subject in Pakistan. Masses marked by the regular use of tobacco, betel leaves (paan), betel nuts among other harmful consumptions are the reasons for poor oral hygiene. In many cases, it leads to mouth cancer. The country's 95% population is challenged by a range of oral health issues that often impact every aspect of life, from personal relationships and self-confidence to school to work to even enjoying the food. For many, dental health care is a high-end service that remains out of the reach of at least 60% of Pakistanis. These are classified as rural population and those who mainly fall under the socio-economy class C, D, and E.
According to the last published World Health Organization's report, there are registered 13,000 dentists of which 8,500 are practicing. Over the years, Pakistan's population has grown to over 200 million people making dental care access quite difficult. Even though the dental graduate count exceeds the practicing number, but unfortunately 70% of the women graduates are yet to make a dent in the cause. More shockingly, 69% of adults aged 35-44 years old have lost at least one tooth.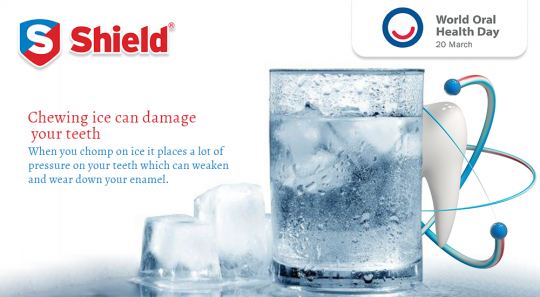 Therefore for decades Shield is spreading awareness for good oral hygiene habits and advising regular dental check-ups to contribute to a lifetime of well-being and better quality of life as one age. Recently, Shield sponsored World Oral Health Day (WOHD) that was celebrated across Pakistan on March 20, 2018. WOHD spreads awareness on good oral hygiene practices in adults and children. Each year, WOHD focuses on a specific theme and reaches out to the public, oral health professionals, and policymakers, who all have a role to play in helping reduce the burden of oral disease. From 2018-2020 World Oral Health Day (WOHD) will be under the theme 'Say Ahh' at the World Dental Congress in Madrid, Spain. It mixes with various sub-themes: 'Say Ahh: Think Mouth, Think Health' encouraging people to make a nexus between their oral health and their general health and well-being.
A four-decade experience, Shield with WOHD wants to make a major mark in the oral health industry. Having a diverse range of toothbrushes and toothpaste customized for individual needs it spreads a simple message of brushing the teeth two times a day to keep oral diseases at bay. This simple awareness lacks importance and gives rise to a common toothache problem. Shield's commitment to 'Care' is the core of spirit of the company, which makes Shield a recognized household name in Pakistan. Let's join hands with Shield Muskurahat on Facebook and fight for a better oral health care that gives the confidence to eat, speak and prosper without being considered of thoughts and opinions if others.
Read Also: The Greatest Wealth Is Health – An Important Note On World Health Day
Proud sponsor of World Oral Health Day for the past 5 years.#ShieldMuskurahat #ShieldOralCare

Gepostet von Shield Muskurahat am Samstag, 10. März 2018