Sherry Shah marriage news spread all over social media and netizens wished her with an open heart.
Sherry Shah recently announced that she's getting married to Shamoon Abbasi who has been together for a very long time.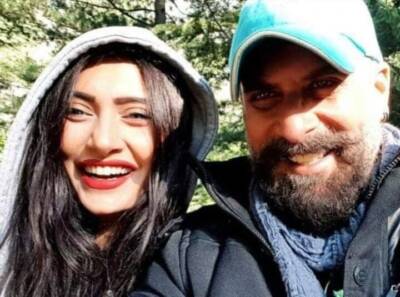 The couple took to their official Instagram accounts where they wrote down a heartfelt note and shared an image.
Both of them have worked on several projects as well. The news broke out on 4th April when Shamoon turned 50 years old.
Sherry Shah's Marriage To Shamoon Abbasi
Shah took to social media and shared a heartfelt note for her 'hubbs' on his birthday, who turned 50 on April 4. Sharing a picture of the two, she shared,
"I appreciate so many things about you — your strength, your calmness, your character and integrity, your sense of humor, your way of seeing the beauty in the world, and how fun you are to be with and how beautiful my life has become because of you."
She further added, "Thanks for being the best thing in my life, every hardship is a walk in the park when you are around. I feel so blessed to have you as my life partner. Thanks for existing. Happy birthday, hubs."
That's the first time, Sherry addressed Shamoon as a husband in these all years.
'Feel Peaceful at the End', Shamoon Abbasi
Shamoon Abbasi also shared a post with the note, however, he took a different approach and talked about the lessons he learned in his life.
"On my 50th birthday, I have been asked how I feel today. I said our entire lives we struggle to achieve something and feel peaceful at the end of it. Alhamdulillah Allah has given me everything I dreamt of; lovely kids, a sweet loving partner, a home that is always filled with peace and joy, siblings that always respected and loved me unconditionally, a fulfilling career."
Abbasi added, "Fans and friends that always supported my twisted image on screen and work and pushed me to do more with their appreciation and motivated me to stay in the race. Enemies that no matter what the situation is, do respect my journey. What else one needs in life?"
Shamoon has married before, and his ex-wife Humaima Malik even accused him of an abusive marriage.
What do you think of the story? Tell us in the comments section below.