If people think that the American politics is the most entertaining piece on television right now, they are mistaken. From the past 24 hours, Pakistani politics has taken a weirdly interesting turn and we just cannot get enough of it. The cat and mouse chase between PMLN and PTI continues, with Rawalpindi witnessing another action-pack event today.
Here is what happened:
Following the announcement of Sheikh Rasheed's jalsa that was to begin from his residence "Laal Haveli", the government started feeling some major insecurities.
They released orders to prevent jalsa and the march and added barricades around Sheikh Sahaab's residence. Conclusively, the order was to keep him under a house arrest. Sheikh sahab, the king of swag couldn't be stopped from the so-called house arrest.  He somehow managed to escape the police surrounding his house and not get arrested for a long time.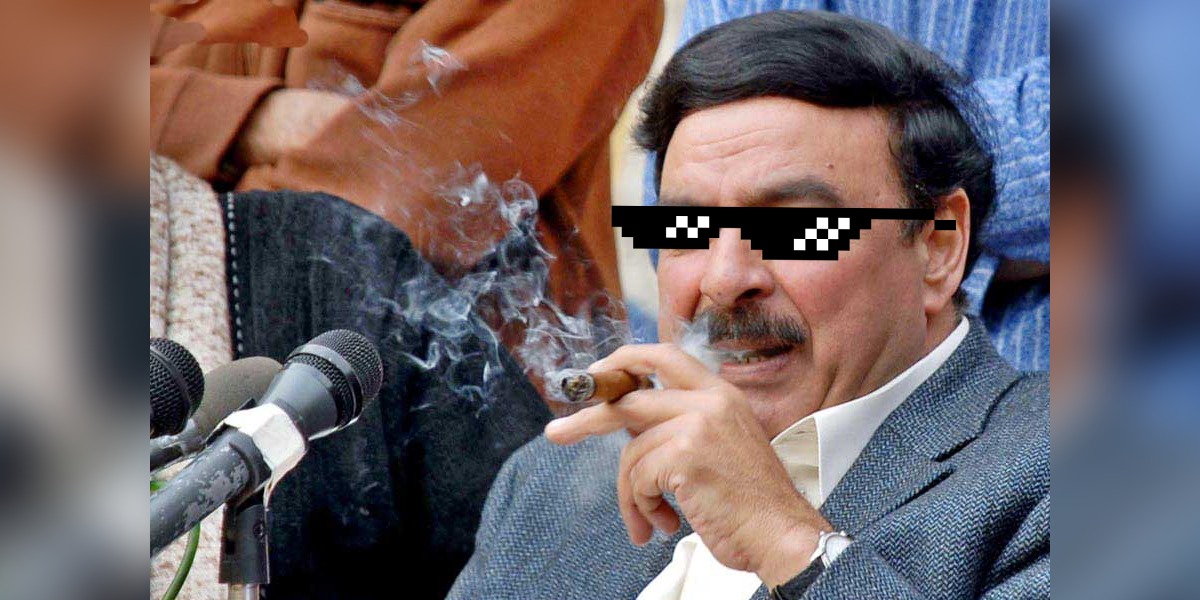 SHEIKHO DA SWAG NEEE!!
To ensure that nothing works out, the government also released orders for his arrest. This led to a pretty interesting goose-chase with Sheikh sahaab on a trolling spree.
Checking in From Different Places on his Facebook
Height of Trolling by Sheikh Rasheed @ShkhRasheed Sharing his Location to tease gov…! pic.twitter.com/s5VXoDcRTE

— Nomy Sahir (@Nomysahir) October 28, 2016
When you tell your friends you're busy but your Facebook check-ins tell a different story.
Basically, Sheikh Sahab Just Proved:
From: Sheikh Rasheed
To: Gov't pic.twitter.com/D6xGu19zH5

— Sir Main Dad (@SirJohnRoe) October 28, 2016
"If you arrest me, I will arrest your life!"
We Are Witnessing Narcos Pindi LIVE
Chilling, Showing middle finger to admin. Cigars, TV interviews, Moving in a taxi
Narcos Pindi ft. Sheikh Rasheed

— Ihtisham Shami (@iShami_) October 28, 2016
Li'l Rasheed
Police has started crackdown outside Sheikh Rasheed's residence and he managed to somehow escape them.
YO YO SHEIKH SB pic.twitter.com/Qif8gvkN8r

— ر (@RidaFatimaah) October 28, 2016
Can't wait for more dissing sessions today
Every PTI Supporter Right Now:
Sheikh Rasheed to govt pic.twitter.com/2EeHX2uPX4

— Altaf B. (@AltafBe) October 28, 2016
Special GTA Cheat Codes For Sheikh Rashid
Sheikh Rasheed is using 'cheat codes'

— No (@imdwale) October 28, 2016
GTA players assemble
Hello Dear
Sheikh Rasheed to Punjab Police. pic.twitter.com/jkJU3aGD8n

— B-Rabbit (@iamnomi11) October 28, 2016
"Nice try, dear"
And To Make A Grand Entrance
Live: Sheikh Rasheed talking to Media at Committee Chowk pic.twitter.com/E9zdKodDjP

— JAAG TV (@JaagAlerts) October 28, 2016
*fireworks*
And He Might Have Just Broke Some Records Today!
Today's Usin Bolt= S.Rasheed
Today's Jason Bourne= S.Rasheed
Today's James Bond= S.Rasheed
Today's Pablo Escobar= S.Rasheed#ShiekhRasheed

— Saman (@SamanKiBatain) October 28, 2016
THAT IS HOW SHEIKHO JEE ROLLS
No matter what happens, Sheikh rasheed sprinting across #CommitteeChowk will be the highlight of this entire event for me pic.twitter.com/7RP2bhCRJz

— Khan Sahib (@Khanabadosh_) October 28, 2016
When daddy says "Ja Simran Ja"
Sheikh Sahab Driving Through The Streets, With No Fear Whatsoever
He's a muthaf**kin' starboy pic.twitter.com/rnJbrGvgqK

— Ahmed Zulfiqar (@azkhawaja1) October 28, 2016
Sheikh Rasheed right now. pic.twitter.com/aJsN1BYg3F

— حارث. (@damnharris) October 28, 2016