3D lifestyle, Pakistan's # 1 Medical Aesthetics brand launches a groundbreaking non-surgical technology for vaginal rejuvenation to help women suffering from embarrassing symptoms caused by Urinary Tract Infections, Stress Incontinence & Laxity.
In a glamorous event on Saturday afternoon in the media hub of Pakistan, 3D lifestyle, the licensor of the original Non-Surgical 3D Lipo technology from the UK launched a diverse range of multi-platform technologies.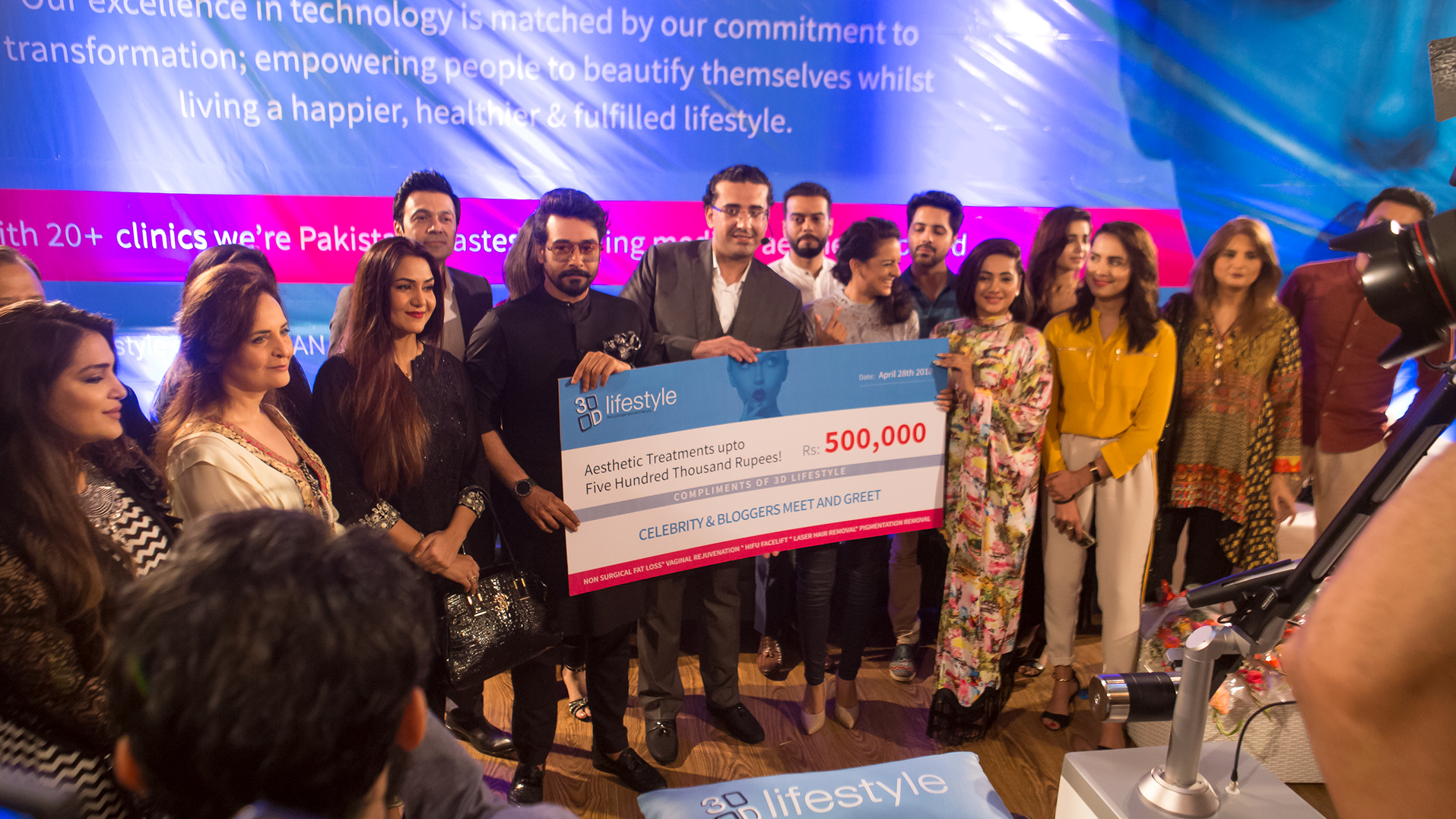 With its new acclaimed success and recognition with its 5 months existence in Pakistan, 3D lifestyle is rapidly becoming a darling for those who have experienced its Non-Surgical treatments like 3D Cavitation and 3D Cryolipolysis for Fat-loss and its ever-so-popular 3D HIFU facelift which has raised the bar in the ever-evolving anti-aging market.
Pakistan's most famous Celebrities and top fashion and technology Bloggers witnessed a live demo where a couple of randomly selected patients volunteered from the audience underwent treatments for Laser Hair Removal and Skin Rejuvenation.
3D lifestyle showcased a range of 3 new technologies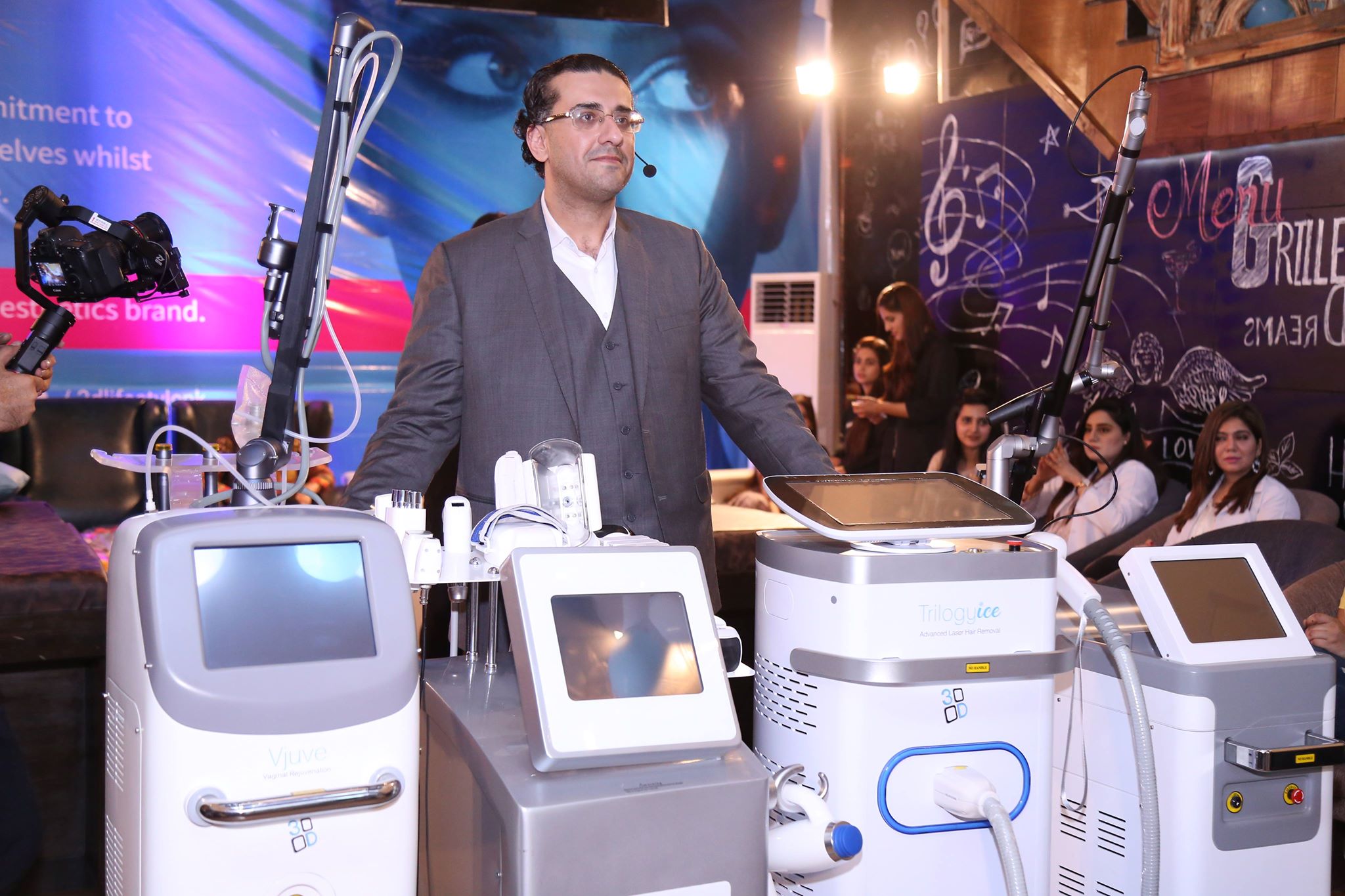 3D lifestyle launched 3D-Trilogy ICE which is the latest and the most advanced laser hair removal technology today. In a very saturated laser hair removal market, what makes 3D-Trilogy ICE unique is its gliding motion Hair removal (not a static application) ensuring safe, comfortable and effective hair removal on ALL skin types. With the "Power of 3," the 3D-Trilogy ICE sets a new benchmark in laser hair removal technology as it offers 3 wavelengths ALEXANDRITE 755nm, DIODE 808nm and YAG 1064nm. 3D-Trilogy ICE combines the proven benefits of 3 wavelengths achieving maximum results on ALL skin types and Hair colors when compared to single wavelength alternatives available in the market.
The 2nd highlight of the night was the 3D-Nanosure technology which offers a painless & seamless solution for the removal of stretch marks, pigments, scars and tattoos across the full spectrum of ink colors. 3D-Nanosure is the gold standard in dual-wavelength Q-switched Nd:YAG technology and by far the most effective technology in modern-day skin resurfacing. Unwanted dark and multi-color tattoos, as well as birthmarks, pigments and other skin rejuvenating procedures, can be safely and effectively conducted using the advanced 3D-Nanosure dual-wavelength laser with the Q-Switching application.
The Crown Jewel of the night was when Mr. Jawad Qureshi, Founder & CEO of 3D lifestyle, introduced the V-JUVE sending the crowd into a huge frenzy. Studies indicate that now 1 in 3 women in Pakistan aged between 30 and 60 suffer from embarrassing symptoms caused by Urinary Tract Infections, Stress Incontinence & Vaginal Laxity, and Dryness.
Using the 'Power of 3, V-JUVE offers a diverse range of treatments within the three main categories of fractional CO2 skin resurfacing, VRL and surgical CO2 applications to provide a clinical solution for various feminine concerns. The procedures are fast, painless, safe and highly effective. Life events such as childbirth, weight fluctuation, and hormonal changes may overstretch and damage the vaginal tissue and the pelvic floor as well as alter the mucosal tone of the vaginal wall. These changes can lead to urinary incontinence, vaginal atrophy, dryness and can cause recurring infections all of which have a potential effect on the quality of life and self-confidence of women as 3D lifestyle believes that SHE MATTERS!
3D V-JUVE is the ultimate three-dimensional solution providing a minimally invasive procedure. The 3D V-JUVE fractional CO2 laser delivers superficial energy into the vaginal skin which creates tiny white ablated dots of damaged tissue on the mucosal lining inside the vaginal canal. The resulting heating response stimulates new collagen production improving the thickness of the vaginal lining. In addition to the vaginal tightening, a fractional CO2 application can also be used for vulva rejuvenation and skin resurfacing.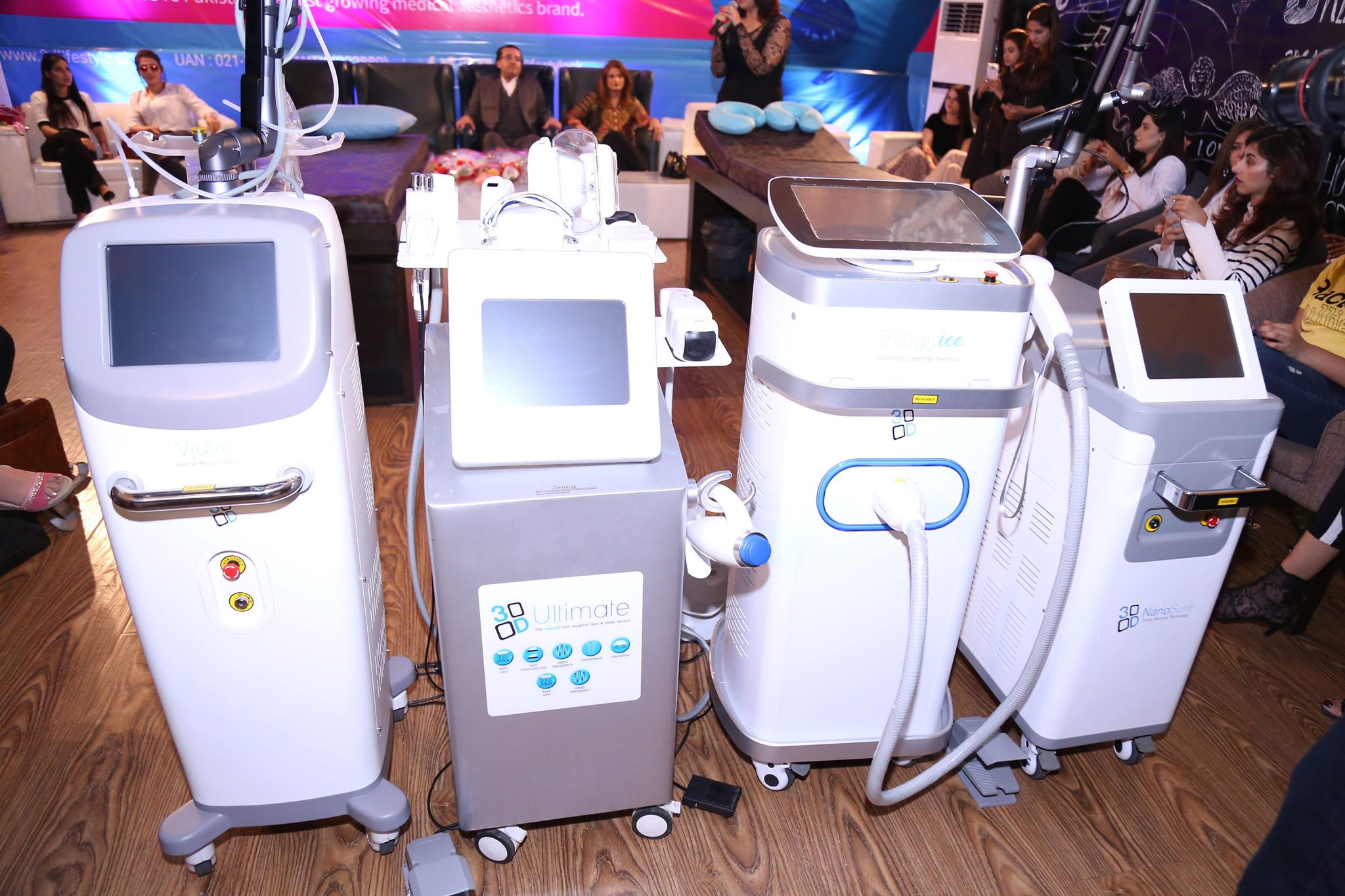 Today's woman is very conscious about her health and hygiene. 3D lifestyle stays committed to providing the cutting-edge technologies positioned around feminine health in Pakistan with its clients trusting the excellence in technologies provided by highly experienced and qualified Aesthetic Consultants who happen to be leading Plastic surgeons, Dermatologists, and Cosmetologists globally.
The night ended with a keynote address from Mr. Jawad Qureshi as he stated:
"I am here to assure our mothers and sisters that 3D lifestyle stays committed and delivers upon its promise for providing revolutionary technologies with unparalleled quality of patient care at all of our clinics nationwide. Today is a day not to be forgotten and with the launch of our 3 new devices, I can assure you of a life-changing experience. With our 22 clinics and counting nationwide, I have a dream to offer quality health care in every district and city of Pakistan and I request our esteemed Doctors and other volunteers to join me in this cause and grandfather 3D lifestyle to be an exemplary company in Pakistan's history."
To learn more about 3D lifestyle and its very many treatment options, visit 3 dlifestyle or to speak to a 3D lifestyle Aesthetic Consultant, call (021) 111 BEAUTY (232 889).
Read Also: FEMPROW – This Brilliant Initiative Is Changing The Game For All The Pakistani Women Out There!