Shawarma in layman terms is an 'Arab dish' that is quite popular around the globe. Every Middle-Eastern country has its own twist to it and the taste is to die for. Pakistanis that have had the privilege to taste the original Shawarma are truly lucky. No exaggeration, it is just that good! The juicy meat cuts inside the tortilla wrap on the spread of an amazing sauce with fat fries included, is just amazing.
Desis within Pakistan can only experience the authenticity of Shawarmas at an Arab restaurant. However, Islamabadis are graced with an individual all the way from Syria who is running his very own Shawarma stall for 5 months.
Syrian refugees are spread across the world due to their country's devastating condition for decades. They were forced out of their own homeland and seek refuge in various countries. On a lighter note, Syrians are known for their beauty; their women are gorgeous and men, handsome. This hardworking Syrian man is giving Islamabadis a taste of authentic shawarma, made entirely from scratch by him. He is handsome too!
Introducing, Syrian Shawarma Made By A Very Handsome Syrian, In Islamabad's Friendly Neighborhood!
Pssst! He speaks pretty good Urdu too.
This Syrian refugee has set up a stall making shawarma in the heart of Pakistan

He loves being in Islamabad pic.twitter.com/8v7hPGs5st

— Roznama Lifafa (@RoznamaLifafa) October 4, 2019
Location: F 10 Markaz. 
Islamabadis have surely won his heart and he informs how he doesn't plan on returning back to Syria anytime soon. Keep the love coming, guys! They need all of it. Coming back to the details, that thick sauce looks inviting and hearty. Let's not even get to the large size portion of tender meat that he generously places on to the wraps; no wonder his business is booming. Not only the portion size looks great, but as he said, everyone knows it is an authentic Syrian version of the Shawarma.
He marinates the meat for more than 24 hours with the spices and even makes the tortillas himself back home, now THAT is hard work. He deserves every bit of support, love, and kindness; lucky for him Pakistanis are known for carrying big hearts.
Let's take a look at those delicious Shawarmas again: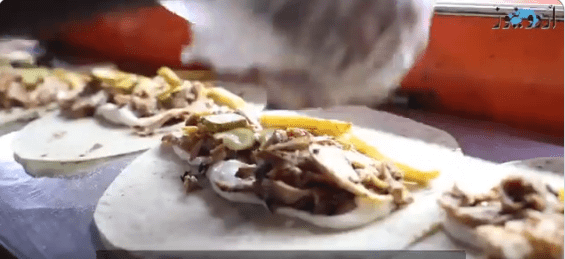 The man behind this goodness: 
The finished shwarma is then grilled giving all the ingredients inside a BBQ taste. I mean, come on. *Drools*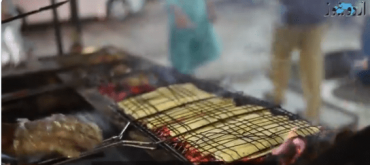 Lots of nazar to all these Islamabadis enjoying away the shawarmas!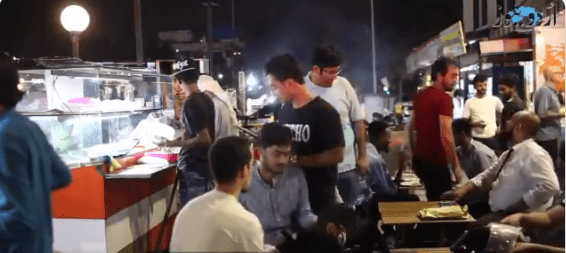 This is absolutely wonderful. According to the Pakistanis that tasted his creation, vouch for its taste to be as good as it looks in the video. We wish him the best and hope that his business grows and he moves towards other Syrian dishes, giving Pakistanis a true Syrian Cuisine experience!
Also Read: 50-Year-Old Sabeela Bibi Sells Burgers In Rawalpindi To Support Her Family And This Is Inspiring!
All images courtesy of URDU NEWS.
Have anything to add to the story? Comment below!