A video of Pakistan Peoples Party's (PPP) leader Sharmila Farooqi began doing the rounds on Tuesday. It shows her running across the assembly as several Sindh Members of the Provincial Assembly (MPAs) exchanged blows.
Reportedly, a noisy clash broke in the Sindh Assembly after the lawmakers belonging to the Pakistan Tehreek-i-Insaf (PTI) began to fight with three dissident MPAs of the party.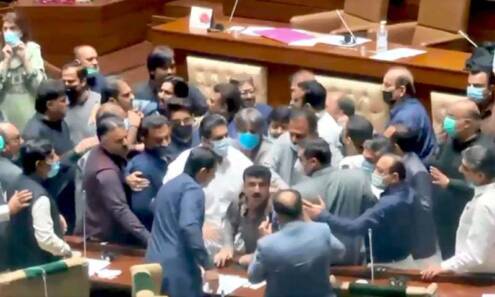 Earlier, the three MPAs including Karim Bux Gabol, Shaharyar Khan Shar and Muhammad Aslam Abro made an announcement. They claimed to not vote for the PTI candidates in the March 3 Senate elections. The said that they were not taken on board while awarding the tickets for the polls.
The members of the ruling PPP welcomed the three lawmakers when they arrived at the assembly for Tuesday's session. However, as the 'rebel' PTI members entered the Sindh Assembly, they were attacked by the PTI MPAs, resulting in chaos.
Subsequently, PPP members also got involved to disengage the fighting lawmakers. The assembly turned into a wrestling ring by the PTI members. Following the chaos, Gabol was escorted out of the assembly by PTI lawmakers. Not only that but he was also made to sit in a car and driven away.
Meanwhile, the other two dissident MPAs Shar and Abro remained on the PPP's side and exited the assembly with government members. The deputy speaker adjourned the session until Wednesday when polling for the Senate elections will take place.
Sharmila Farooqi runs to call security
A video of PPP leader Sharmila Farooqi running frantically across the Sindh Assembly surfaced as the MPAs of the PTI clashed with one another. Farooqi took it to Twitter to say that she was unhurt during the scuffle.
However, the PPP lawmaker clarified that she was running to call security "to save the poor MPA from being beaten to death!"
The Sindh Assembly oftentimes displays some interesting occurrences.
Earlier this month, a shocking video made rounds on social media. It exposed the horse-trading during Senate elections in 2018 by some Pakistan PTI lawmakers. In the video, they could be seen in the video counting bundles of cash and then stashing the same in a bag.
Prime Minister Imran Khan had announced constitutional amendment for Senate elections through a show of hands last year. He insisted on a show of hands instead of secret balloting to end the sale and purchase of votes.
What do you think of this story? Let us know in the comments section below.