Something which many had been fearing – Pakistanis showing the insensitive attitude towards the word harassment – just like they do towards the words like feminism, discrimination and what not.
The past one month has taken the Pakistani social media fanatics by storm. Sharmeen Obaid's claim of harassment when a doctor sent a friends' request to her sister has become the subject of debates, arguments and now marketing tactics.
Rather than debating on how the entire aspect was ethically beyond the boundaries of professionalism on the part of the doctor, the focus of the entire population went straight to the word 'harassment'.
Various Brands are Now Seen Taking Advantage of the Harassment Claim to Gear Attention
As one says, "no marketing is bad marketing", the Pakistani brands are following the exact same pattern. They are being insensitive towards the entire incident and are now taking the word 'harassment' out of context as well. Brands which lack business are definitely using this cheap marketing trick to gear some attention.
For Example, This Cafe in Karachi
Take a Look at their Caption:
Till now 94,000 people harras our monster shakes by liking and following our page and our Blue berry monster shake is raising its voice against this harrasment ???
Sane People Got Furious and Safe to Say, the Cafe Might have Lost Some Customers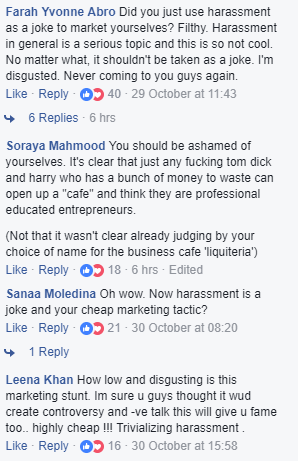 And Here's Another One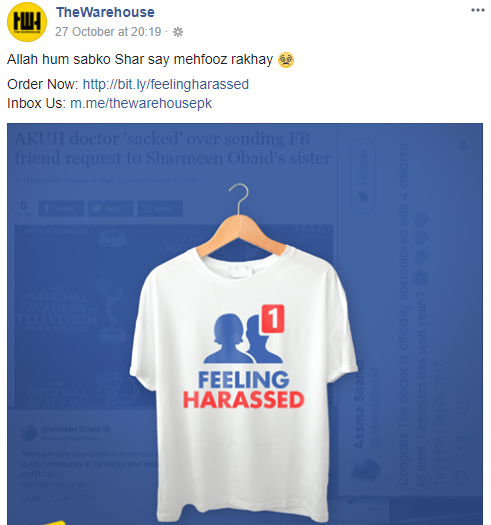 These are just two examples – while the internet is filled with such low, cheap tricks by brands for the sake of some development of attention their way.
You will never see a brand endorsing the side of the incident that really needs to be encouraged – did anyone invite women or men to come forward and share their harassment or any other unethical behavior that happened? You won't find such behaviors.