Following a trend on Twitter began with the Netflix documentary trailer on corruption in Pakistan. It's right now trending on Twitter and Pakistanis are excited about it.
Because it's a big wake-up call for all the Pakistani awaam, as the documentary showcases Nawaz Sharif and his family's corruption in a detailed manner.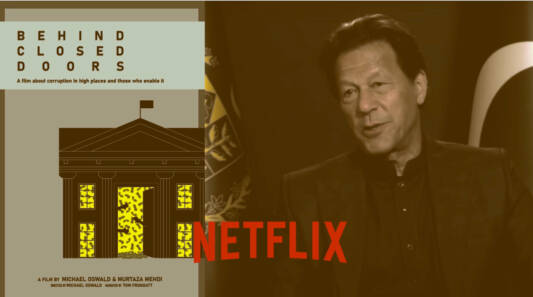 Behind Closed Doors took social media to storm when the trailer was shared by various PTI members and journalists.
As the documentary series also features PTI leader Imran Khan, his party members, and other foreign journalists exposing the Sharif family's big-time corruption.
Behind Closed Doors – Sharif Family's Corruption
The social media platforms filled with a trailer that appears as the prologue of a documentary on political corruption have been making the rounds.
It was also shared by Chaudhry Fawad Hussain, Pakistan Tehreek-e-Insaf (PTI) leader and former Federal Minister for Information and Broadcasting.
With that, #Netflix in Pakistan trending on Twitter that Netflix was releasing a documentary on corruption in Pakistan. Pakistanis were excited to share how this will be a big exposure of how the deep state functioned in Pakistan during the tenure of Prime Minister Nawaz Sharif.
It's a big hit and embarrassment for the Sharif family and a lot of PTI supporters have been sharing it on Twitter.
Netizens React To Behind-Closed Doors
One user wrote, "Explosive film about mega corruption scandals in Pakistan 'Behind Closed Doors' A Netflix series is coming soon."
Another user wrote, "#Netflix is going to release an explosive film "Behind Closed Doors" about mega corruption scandals in #Pakistan. Some "big names" are featured. I won't be surprised if they ban Netflix in Pakistan for airing it."
The teaser created chaos all over social media platforms and netizens reacted to the documentary.
It's not the first time Nawaz Sharif and his corruption featured internationally. Recently one of the Canadian university's lecturers showed Nawaz Sharif's corruption as a case study for the Anti-Corruption lecture.
Not only that, but Nawaz Sharif also stands tall in the list of the top 10 corrupt politicians in the world. Up till now, Netflix has not given any sign of producing or hosting the documentary.
What do you think of the story? Tell us in the comments section below.