We all know that the Urdu Language instead of being beautiful, versatile and vastly expressive in the sub-continent from the last two or three centuries, has now become a reason of dishonor for Pakistanis. We love to mock the people who speak Urdu by saying, "Ye Peele School Se Perh Ke Aya Hoga", "Urdu Medium Naam Hai Na Tera?" and many others.
But luckily some true patriots are working for the survival of Urdu language in Pakistan through many ways. The recent launch of the 'Urdu Speech Therapy Platform' by the two students of engineering from Jinnah University Of Women, seems as a noteworthy initiative for the progression of Urdu.
Shanza Khan Shahani and Rabab are the two young girls who let disabled children dream again, the dream of speaking and hearing without any hurdle. Both the girls have taken this initiative with the collaboration of Bolo Tech.
What Is Bolo Tech?
It is a digital speech therapy platform that facilitates you to improve your speaking and communication skills of Urdu primarily, a perfect alternate of speech therapy which is time taking and costly as well. They have planned to work on other languages in the future. With the help of the Urdu Qaida, they have made detailed lessons and interactive games which help the kids to learn Urdu in a very interesting way.
Both of the girls are working at The Nest I/O, a tech incubator in Karachi where they will work for the next four months. According to Shanza,
Every minute at The Nest counts for us as we will never get the same opportunity to be able to work on the product without any interruption the way we have gotten at this incubation center. At home, there are always electricity shortages, internet problems and family members disrupting our workflow.
Shanza and Rabab are testing their software at VISL WES, a school for disabled or slow learning children. How was the experience of working with the children? Rubab replied that,
"We weren't aware of how difficult simple tasks for these kids were before we started designing this software. Now we are even more committed to building something that could give these kids a real voice in society."
The children are having fun with this new aid, which made the girls happy too.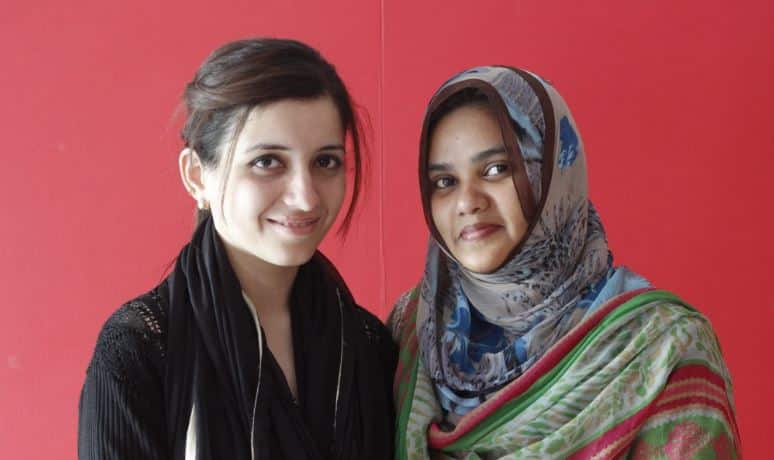 Shanza and Rabab aim to get command on the software as soon as possible so that they could launch the final version of this therapy which includes the curriculum, different games and other activities for the children. After its completion, their next goal is to provide the same software in different regional languages of Pakistan including English.
Pakistani girls can do everything for the sake of their dreams! More power to you girls!