What do guys think about the combination of food and music? Well, it does sound to be pretty irrelevant and you might actually think that music and food are just two different things that we cannot live without. They do not relate to each other in any way but if you think deeply about it and match a few things, then music and food go hand-in-hand pretty well.
Come to think of just one thing, what are the core values of our culture that specifically our food reflects? Take the example of the latest Shan advertisement. A Chinese lady in Lahore attempts to prepare Biryani to meet and greet her Pakistani neighbors. That's one way to get around hospitality, and it rightly depicts how food, especially Biryani is an important part of our Pakistani culture. Now, the music, the well versed vocals by Meesha Shafi in the Shan ad OST you could hear in the background just revitalizes the appeal of it! This is where music and food go hand-in-hand, guys, to depict our values!
Talking about the #KhaanaWithParosi Shan OST, there are many people who actually were taken to whole new miles listening to that song. The song is so enticing that people cannot help but browse all over the Internet to find and listen to it over and over again. So, guys, here I present you not only the chance to listen to the Shan OST sung by Meesha Shafi but actually win exciting gadgets and goodies just by listening to it!

YUP… PATARI JUST MADE THAT POSSIBLE!
Here's your chance to listen to your favorite Shan #KhaanaaWithParosi OST and win some of the greatest prizes you ever wanted. Thanks to Patari, as the song, can be listened on their website and that's not it because some goodies are also waiting for you.
SO, ALL YOU HAVE TO DO IS…

Go to Shan OST by Meesha Shafi
Play the song and you will gain 15 points
Simply share the song with your friends and family and you will gain 30 points
CLICK THE IMAGE BELOW TO LISTEN TO THE SONG: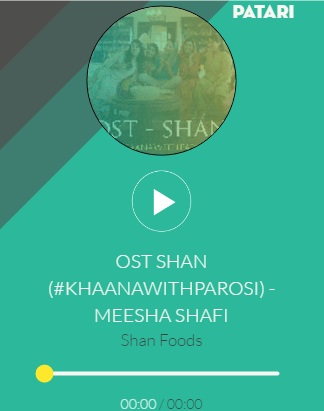 WHAT'S THERE TO WIN?
The top 5 scorers on the leaderboard will win iPod Nano and Shan gift hampers!
BUT BEFORE YOU GO…
Keep in mind that you need to be logged in to score and compete. Also, it takes a few minutes for the leaderboard to update. So, go on and win the prizes!
Must mention what an incredible job Meesha Shafi has done. Her vocals give you an eargasm, to be honest!
Thanks to Shan and Patari for giving us the chance to listen to this beautiful tune.