Football in Pakistan has seen perilous times with a looming uncertainty of the future of the sport. Within this turmoil, Shahzaib Ahmed Khan – the man with a vision, has emerged as one of the most prominent figures in the country's football landscape. With an unwavering passion for football that resulted in an illustrious playing career, Shahzaib has committed to nurturing grassroots talent in the country.
With his transition into management, Shahzaib has become a driving force behind the rise of Abdul FC, a professional football and futsal club. In collaboration with the Crimson Group of Companies, Shahzaib is revolutionizing the football in Pakistan, creating opportunities for aspiring players and instilling hope in the hearts of the football-loving youth.
Shahzaib has always had a desire to make discernible impact. His leadership skills were evident during his early days, where he captained both Beaconhouse Sindh and Southshore College, showcasing his natural talent and dedication.
His excellence on the field led to his representation of Sindh in the national games, and he even caught the attention of the national coaches being included in the probables during the 2013 national camp.
Shahzaib's dedication to the sport culminated in the founding of Abdul FC, a team started by a group of friends, that has now flourished into a professional football club.
Comprising players from various areas of Karachi and beyond, including underprivileged regions, Abdul FC stands as a testament to Shahzaib's commitment to inclusivity and talent development. With over 100 team accolades, the club has become a force to be reckoned with in Karachi, the twin cities, and Lahore.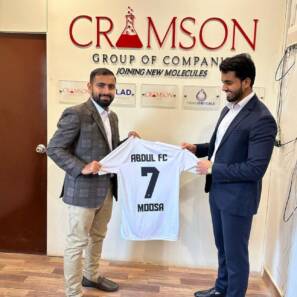 Recognizing the potential of Abdul FC, the Crimson Group of Companies, under the leadership of Mr. Mohammed Moosa, joined forces with Shahzaib to support and further enhance the club's progress.
As Abdul FC's Platinum sponsor, Crimson shares Shahzaib's vision of providing an accessible platform for the growth of football in Pakistan. In a recent milestone, an MOU was signed between the two entities, introducing a scholarship program that aims to support struggling aspiring football players.
The sponsorship agreement between Abdul FC and Crimson signifies a lifeline for aspiring football players facing uncertain incomes and inconsistent departmental football opportunities due to political challenges within the industry.
Under this program, Abdul FC provides stipends, medical treatments, training, education, coaching, employment opportunities, and even covers marriage and house rent for deserving individuals associated with the club. Over the past two years, more than 30 players have benefited from this initiative, providing them with a chance to pursue their dreams.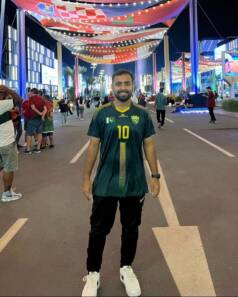 In addition to its focus on player development, Abdul FC, in collaboration with Crimson, has undertaken various social initiatives. During Ramadan, the club organized ration drives in Lyari, reaching out to over 1000 individuals in need.
Shahzaib's vision extends beyond the success of Abdul FC; he aims to revolutionize football in Pakistan by creating a sustainable and nurturing environment for aspiring players.
Shahzaib Ahmed Khan's journey from a passionate football player to a successful manager and visionary reflects his unwavering commitment to the sport and the development of football in Pakistan.
Through the establishment of Abdul FC and the partnership with Crimson Group of Companies, Shahzaib has created opportunities for talented youth and provided them with the support they need to thrive.
With Shahzaib's leadership and the continued support of entities like Crimson, the future of football in Pakistan looks promising, ensuring that the sport continues to flourish and the dreams of many can turn into reality.