We have seen cricket players be at their low but then at their best too. Every player has a low time in their career which they are forgiven for because we know that they'll eventually rise up. However, there are a few who went low and kept going low and now they're at the center of the Earth and they've forgotten how to climb back.
Who are they? Any guesses? Of course the selfie boy and the ducking champion.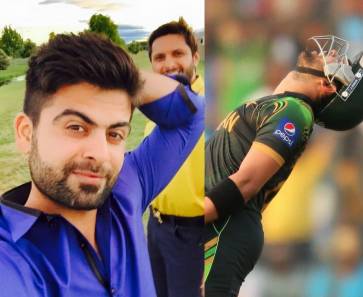 Misbah the new head coach and chief selector brought back the ever so neglected players Shahzad and Akmal back in the game as he came in power. He gave them a chance to prove themselves as a lost asset to the Pakistan team. But when cricket fans heard that news they instantly figured that Misbah was taking the wrong turn.
Because both players were thrown out of the team based on their disciplinary and fitness issues. Even though Misbah had cleared the air on at least one of those issues and sent both of them to training camp at the National Cricket Academy, people were still not satisfied.
Anyhow, "He must have something in mind after all he's an experienced player," is what everyone ended up thinking.
So, Misbah gave them a comeback in cricket with SL vs PAK series. It was less of a comeback and more of a goodbye.
But it turns out people weren't all that wrong. After the performance of both the players against Sri Lanka in last night's match, it has been clear that these two players are legends. Pakistan lost the match and some credits could be given to the beautiful play of Shahzad and Akmal.
Despite knowing that they were on a trial and everyone had their eyes on them, they gave a career-ending performance. One that the fans are so not going to forgive them for.
The whole Pakistani nation is trolling the players for their performance.
She is much better than umar Akmal and Ahmad Shehzad#Pakistan #SriLanka #PAKvsSL pic.twitter.com/ACg7G78GqQ

— Muhammad Waseem (@FWaseem54) October 8, 2019
There's a whole lot of sarcasm going on against Umar Akmal and Ahmed Shehzad. It's hilarious.
Do cheezain bilkul sach hain. Ek Lahore panouti hai. Dusra Ahmed Shehzad aur Umar Akmal qoum ka behtareen talent hain. https://t.co/rKewyMibOT

— Nehal (@SayyidNehal) October 8, 2019
Umar Akmal is now Umar Duckmal.
Umar Akmal has 10?
.
Most embarrassing record in T20I cricket!!??
.
Take a bow "LIVING LEGEND"??
.
.
.#PAKvsSL #slvspak #Pakistan #SriLanka #sportszone #PCB pic.twitter.com/b7ZaFQz0g5

— SportsCafe (@IndiaSportscafe) October 8, 2019
Besides merely criticizing the players for their performance, some people are calling our Misbah for his poor choice too.
#PCB the recalling of players like #AhmedShehzad and #UmarAkmal is a mere disappointment and nothing else, when you have an excellent bench of youngsters.#MisbahulHaq you need to stop this favoring attitude.#PAKvsSL

— M Arbab Idrees (@Arbab_Idrees) October 8, 2019
Umar Akmal: https://t.co/brrmZ8A5mV pic.twitter.com/iL7zV1TNrY

— ali (@__aggi) October 8, 2019
Fans are also reminding Misbah of many other legendary players too, asking him if he could give Umar and Ahmed a chance why not others the others.
If players like Ahmed Shahzad and Umar Akmal get a chance then why not Fawad Alam will get a chance in Test Matches again. Still a better player than both of them and a brilliant fielder. pic.twitter.com/sS2T7mMRaW

— Asad Khuwaja (@AsadKhuwaja) October 8, 2019
Some of them were even thanking Misbah for taking the ducking champion and selfie boy in the team and putting an end to their careers.
Plz guyz don't bash Misbah Ul Haq he has done best thing for Pakistan Cricket ended the careers of these two idiots Umar Akmal and Ahmed Shehzad thank u Misbah #PAKvsSL pic.twitter.com/a491yo8axY

— hamzakaleem (@hamzakaleem5) October 7, 2019
We can't clearly say as yet if what plans Misbah has for the future of Pakistani cricket. But this one decision has put him off in the sight of the fans. He would likely get more cautious about his decisions after this.
How far off do you think is Misbah in taking sensible selection decisions? Let us know what you think in the comments.