Indian politicians aren't staying behind in portraying Muslims as bad in front of the whole world and that's what they have been doing for the past few years.
Especially Bharatiya Janata Party (BJP) plays an important role in spreading Islamophobia in India and creating negativity among people.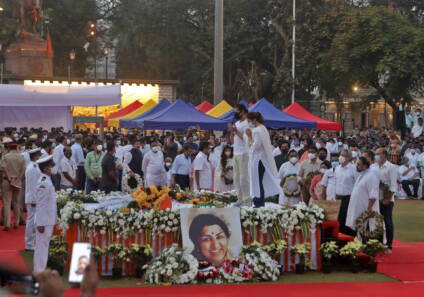 They don't care about the person, not even the occasion. That's what recently happened where they accused Bollywood megastar Shahrukh Khan of spitting on late legendary Lata Mangeshkar at her funeral.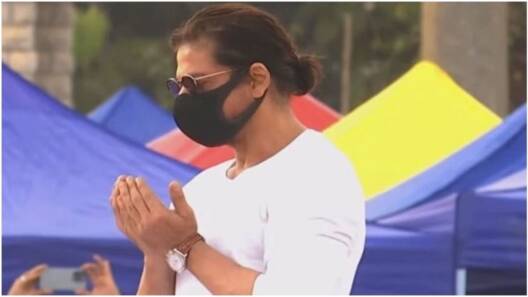 Although everyone knows what exactly happened, soon the news spread all over the internet people went crazy and came in support of Shahrukh Khan. Because in reality what he did was different from the BJP wing's false claims.
BJP draws false accusation on Shahrukh Khan for spitting
Shahrukh Khan arrived at the legendary Lata Mangeshkar's funeral with his manager, he recited a dua and blew air on her body just like every Muslim does. But as usual Bharatiya Janata Party leaders and supporters decided to make it controversial.
Some of the BJP supporters tweeted and started spreading false accusations against Shahrukh Khan. The state in charge of the Haryana, Arun Yadav was the first one to make such an allegation. He wrote, "Kya isne thuka hai (Did he spit)?"
After that none of the other BJP party members came in defense of Shahrukh Khan, but another member Uttar Pradesh spokesperson Prashant Umrao, tweeted "Shahrukh is spitting".
But looks like King Khan has got millions of fans out there who are ready to support him and defend him. Soon the accusations blew all over the social media platform, SRK's fans came on board to show their full-fledged support.
Last year, Shahrukh Khan already suffered a lot due to his son's arrest in drug consumption at a Yacht party. And BJP party wings involvement in boycotting Shahrukh Khan's film Pathan.
Fans gathered to defend Shahrukh Khan
Some people explained the whole scenario and slammed BJP party members for creating chaos. Abhishek Baxi wrote, "SRK saying a prayer for Lata Mangeshkar.
His fans sharing the picture; call it a nice gesture. Most people call it a nice tribute and a superstar being there and paying his respects tells you about the loss. But, of course, vile right-wing folks would play their character."
The Communist Party of India also showed their support, "There are no depths to which BJP will not stoop to – Haryana BJP leader tries to communalize Shah Rukh Khan offering prayers during Lata Mangeshkar's last rights.
It's not peak stupidity – this is peak evil that needs to be eradicated. BJP must go!"
Another user also jumped into the wagon to support Shahrukh Khan. "That's the air which is passed to someone through the mouth after the dua as it reassembles that the person for whom the dua has been made it'll keep them safe and happy wherever they are as per religious norms. That's not spitting. Kindly don't spread hate"
Another user replied to one of the accusers, "@shaharukh7861 paid final taslim to the departed soul like a devout Muslim, saying Assalaamu Alaykum Warahmatullah (Peace and mercy of God be unto you)."
On Sunday Bollywood's legendary Nightingale of India Lata Mangeshkar passed away and left everyone speechless. Thousands of people and Bollywood appeared at her funeral.
What do you think of the story? Tell us in the comments section below.