Shahrukh Khan, a flying officer of the PAF, made Pakistan proud by becoming the only Pakistani cadet from the South Asian state to graduate from the US Air Force Academy in 2021. 
The US Embassy in Islamabad congratulated Khan on his achievement. "Congratulations to Flying officer Shahrukh Khan on becoming the only Pakistani cadet to graduate from the US Air Force Academy @AirForceGrads in 2021," wrote the embassy on Twitter.
The Embassy said Khan was accepted into the academy in 2017 at the age of 19 and underwent four years of "rigorous academic and military training".
At the time of Khan's departure in 2017, Pakistan had one student enrolled in the United States Naval Academy. Three in the United States Air Force Academy, and four in the United States Military Academy.
Moreover, he and other candidates had completed the Candidate Fitness Assessment and interview at the US Embassy in Islamabad.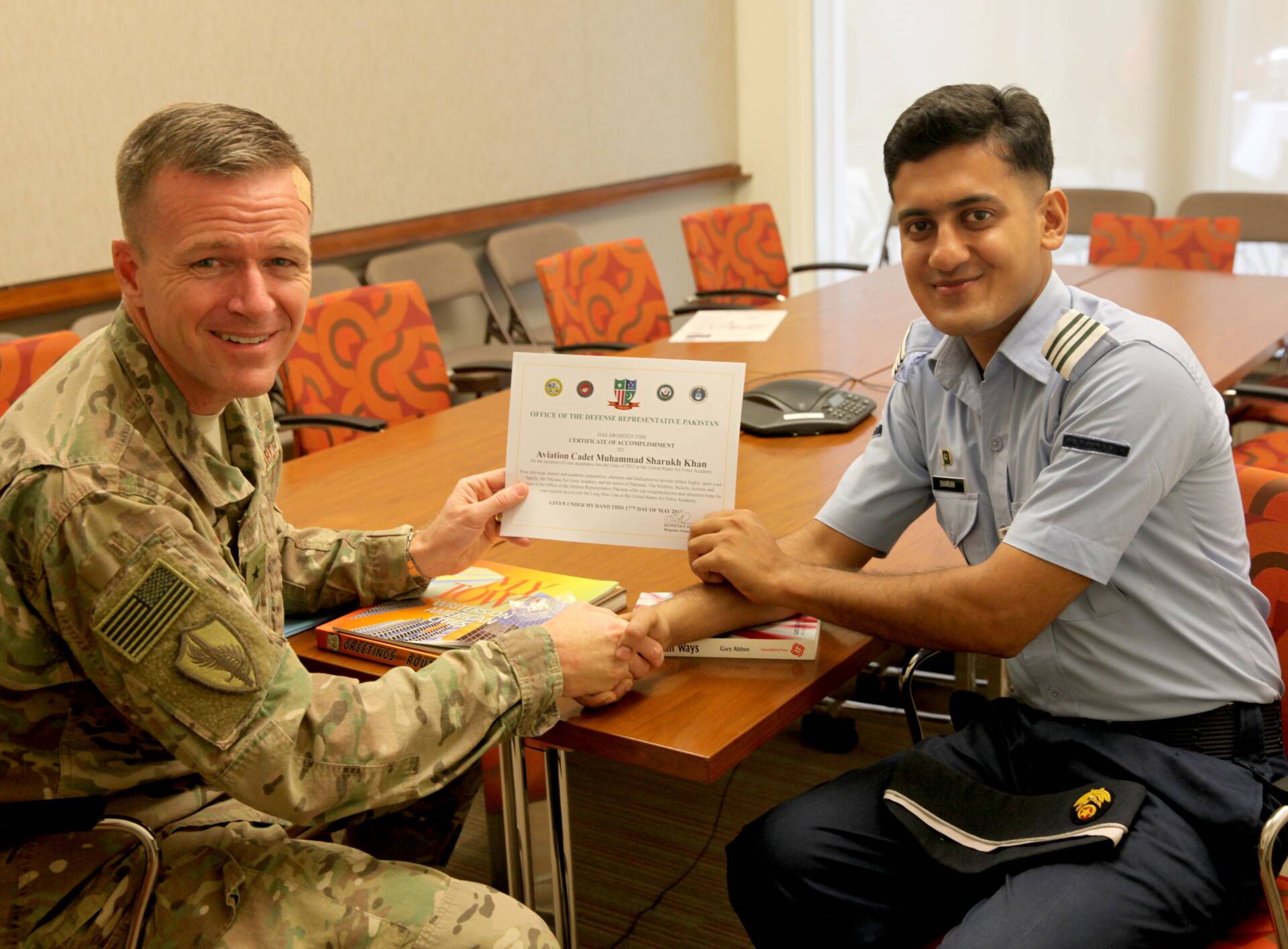 "I'm excited to go, to learn about different cultures and people," Khan had said before departing for the program. At the academy, he intended to study engineering. "From a military standpoint, it will be a chance for me to excel. I learned a lot in Pakistan. The US Air Force Academy will teach me new and different things," he reportedly said.
Taking to Twitter, Fakhr-e-Alam shed light on Khan holding the Pakistani flag. "We must also appreciate & applaud that the Air Force academy had no issues with this gesture of the young man," he wrote.
Social media users have also praised the cadet for bagging the distinguished achievement in the US.
Congratulatory tweets pour in for Shahrukh Khan
Last year, Abdullah Younas, a Pilot Officer of the Pakistan Air Force (PAF), won the 'International Trainee Sword of Honor' in Australia. By winning this award, Younas also became the first-ever international trainee to receive the sword of honor at the Australian Defense Force Academy (ADFA).
It is pertinent to mention that it was the third consecutive time in a span of less than a month that an armed forces academy in Australia recognized the services of a Pakistani officer. Prior to Younas, Pakistani cadet Muhammad Haris Mairaj was declared the best foreign national military cadet by Australia's Royal Military College (RMC).
The achievement of these young Pakistani officers is indeed an honor for all of us. We congratulate them on their achievements. More power to them!
What do you think of this story? Let us know in the comments section below.