Sadaf Kanwal and Shahroz Sabzwari have been in the news since December 2019, and needless to say, for all the wrong reasons. As the news of Syra Yousuf and Shahroz Sabzwari's separation appeared on social media, many rumors circulated on social media about Shahroz's alleged extramarital affair with Sadaf. Now that Shahroz and Sadaf have been married for some time, let's find out if they are the most hated couple of 2020 or not.
While many were referring Sadaf as the 'homewrecker' and 'the other woman', Shahroz posted a video defending her and denying all the rumors. In fact, his exact words were, "Just because we worked together, it doesn't mean we are in a relationship or that it has caused a split between me and Syra."
Well, he ended up deleting that video, as well as the one where he announced his divorce with Syra. Some of us still cannot process the whole situation. After so many rumors, Sadaf and Shahroz finally tied the knot.
Ever since the photos of their nikkah ceremony surfaced on the Internet, the newlywed couple became a hot topic on social media.
People took it to Twitter, expressing their strong disapproval
Syra is the living proof of some woman are actual queens, there's no upgrade after her✨
Shahroz literally didn't know the value of a diamond & picked up pebble…#SadafKanwal and #ShahrozSabzwari have tied knot.
They both deserve each other. Loosers, liers & manipulators. pic.twitter.com/p8jHswizMr

— Bakhtawar Sikander (@its_Bakhtawar) May 31, 2020
Knowing how the public would react, they turned off the comments on their wedding posts on Instagram.
When u r Wrong and u know it 🌚#shahrozsabzwari pic.twitter.com/eUQ2SWamXO

— shaھ zadi (@Diaa_tweets) May 31, 2020
Cheat karlia, shadi karli, but comments khole ki himmat nahi hai. This my friends, is how cowards who know that they are wrong, try to minimize guilt.
Cheapsters, lakh di laanat #sadafkanwal pic.twitter.com/mt4dLJCm1M

— TEE (@Iam_tee_) May 31, 2020
Did you think this was the end of it? Wait, it keeps getting worse…
After facing so much backlash for marrying, the newlyweds recently worked together on a festive Eid telefilm called Ghar Ke Na Ghat Ke. Well, the couple is definitely thick-skinned. Without a doubt, their secret wedding turned out to be a disaster on social media. But no, that was not enough. Their telefilm brought much more trolling their way!
Well, looks like they tried to win over fans and followers by starring in a telefilm together. Moreover, this short film supposed to be a light-hearted comedy, completely backfired! While the couple wished to soften up people towards them, their attempt at fixing their image only blew up in their faces. In addition to this, the audience did not only pan the telefilm but also trolled both of them.
Disastrous telefilm!
Sure, the public might still be holding a grudge against the couple, but Ghar Ke Na Ghat Ke getting trolled is not without a reason. Sadaf and Shahroz are getting mocked for their over-the-top acting and mediocre performances. Let's take a look!
As you can see, the response from the public has been devastating. Clearly, most of the people still hold the grudge and are not over how Shahroz left Syra for Sadaf. Not only are they being insensitive but also downright cruel towards them.
They have been facing huge criticism on their acting and hundreds of hateful and insulting comments.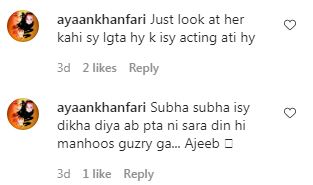 Probably the problem is not that they got married. The problem is they misled their fans in the first place which is why the public continues to stay angry. Most likely, this storm will blow over in a few days. However, will the fans ever forget?
Recently, Shahroz embroiled himself in yet another controversy by supporting a killer. He once again grabbed headlines but this time, not for his love life but a rather sensitive issue. Looks like controversies don't stay away from him for long!
What do you think of this story? Let us know in the comments section below.