Shahroz Sabzwari never shies away from confrontation, and we have all witnessed that. So, what is it this time? As it appears, the 35-year-old star has something special to demand from Prime Minister Imran Khan.
Sabzwari has a special message for PM Imran Khan as he advocated the addition of the mention 'Khatam-an-Nabiyyin' compulsory for the textbooks.
Turning to Instagram, the Nand actor shared a story as he tagged the official accounts of Pakistan Tehreek-e-Insaf (PTI) and PM.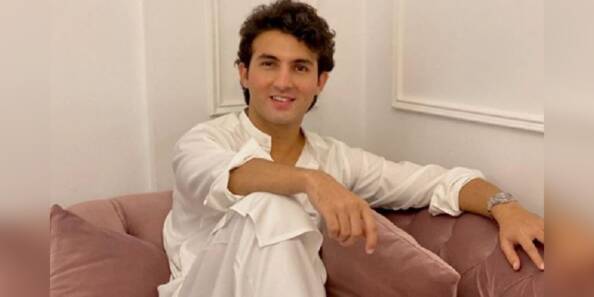 Even though the young actor is a dire supporter of the PM, when it comes to matters of religion, there should be no compromise
Venting out his absolute displeasure, Sabzwari firmly demanded that the inadequate information from Punjab textbooks should be fixed immediately.
"Imran Khan, we are definitely your supporters, but this universe is nothing in front of the Holy Prophet (PBUH)," wrote the Hasad actor.
"Fix Punjab textbooks, and make the mention Khatam Un Nabi SAW compulsory. Or else doomed will be your fate," he added.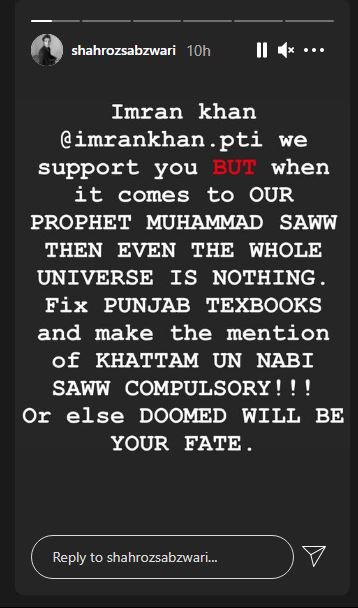 So, what is Khatam-an-Nabiyyin? It is usually translated as Seal of the Prophets. Khatam-an-Nabiyyin is a title used in the Qur'an and by Muslims. It designates Prophet Muhammad (PBUH) as the last of the prophets sent by God.
The emergence of the issue
It is pertinent to mention that last year in June, the Sindh Assembly unanimously passed a resolution. It recommended that wherever the name of the last Prophet Muhammad (PBUH) is written "Khatam-an-Nabiyyin" should be written along with it.
Speaking on the occasion, the mover of the resolution said that Prophethood had attained finality after the last Prophet. The mover added it was necessary to issue a decree making it mandatory to write Khatam-an-Nabiyyin wherever the name of the last Prophet Muhammad (PBUH) was written.
The books of 31 publishers based on material against national heroes and national integrity were banned in Punjab.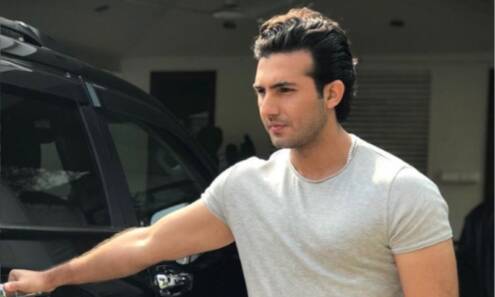 Sabzwari and controversies do not seem to stay away for long. He is once again grabbing headlines this time, not for his love life. This time, he has touched a serious rather sensitive issue.
While some fans supported Shahroz on this stance, others bashed him for threatening the PM instead of requesting him. Time and again the Hasad actor somehow embroils himself in the midst of a controversy. His conflicting actions often lead to severe criticism from social media users.
Earlier, the actor came under fire for sharing a series of posts on his Twitter and Instagram supporting the killing of an innocent, and calling the killer 'a ghazi' in a tweet, tweeting Salute Ghazi.
What do you think of this story? Let us know in the comments section below.