The 34-year old Shahid Afridi was once again given an opportunity by PCB to lead Pakistani T-20 team a month ago. He had been made captain of Pakistan T-20 team and is expected to remain captain until the net T20 Cricket world cup of 2016.
After this dismal performance of Pakistan in 3 match series against Australia, Shahid Afridi is rumored to take over captaincy from Misbah-ul-Haq before the Cricket World Cup 2015, the question arises will he be the right choice for ODI's or question should be was he a right choice for T-20 in the first place?
The Pakistan Cricket Board is seen to have been making same mistakes of taking decisions of Ad-hoc basis. We don't understand the logic behind firing people and players and hiring them again and expecting the positive results.
Shahid Afridi's appointment as captain in T-20 by PCB raises questions about PCB's working mechanism as what really prompted them to re-hire Shahid Afridi as a captain, did they remain ignorant of reasons why they removed him as a captain few year ago.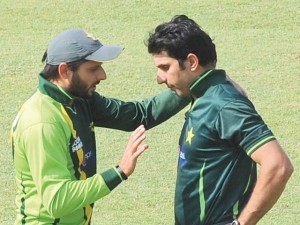 People are talking about Shahid Afridi's prospects of becoming an ODI captain as well. We hear people saying if he is already captaining the T-20 side, he should also captain ODI's. In these suggestions they forget that ODI's make more importance to T20's in international cricket and moreover Shahid Afridi's record as T-20 captain hasn't been convincing either.
Under his captaincy, Pakistan played nineteen T20 internationals. He managed to win eight and lost eleven matches captaining the side. Looking at the statistics of his recent performance, Shahid Afridi hasn't performed best. He has taken ten wickets in last eleven T20 matches and his batting performance is not convincing either with having scored 173 runs. Shahid Afridi's bowling has lost the charm and he remains as fickle with the bat as he was 18 years ago when he made his debut.
He walks to pavilion most of the times without having crossed the double figures and once in a blue moon performance he gives, earns him the permanent place in the tama and amongst the fans. The energy Shahid Afridi puts on the field is beyond any doubt and his commitment with the Cricket is unbelievable.
But modern cricket is about player's individual learning and he has always failed short of it. I think, Shahid Afridi has had his moments and it's time for him to pass on to young cricketers.
When Pakistan lost in the 2014 T20 Cricket world cup, Mohammad Hafeez quit form the captaincy taking all the responsibility for the loss. I think that was an act of cowardice. Just as when the Mohammad Hafeez had become mature as the captain regardless of the defeat in the Cricket world cup, he followed the often-followed norm of quitting as the captain.
And the saga of suppressing the problems by yet another removal or quit continued without addressing the real cause of the Cricket world cup loss.
How can a captain be blamed for dismal and inconsistent individual performances? Pakistan Cricket Board doesn't seem to tackle the problems in a sustainable manner and is more inclined to make instant fixes to avoid the criticism. In my personal opinion, by taking steps like these, we will never be able to win matches, let alone the Cricket World Cup 2015.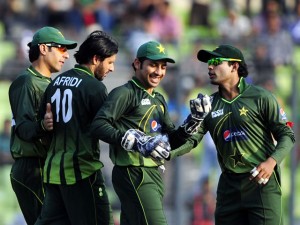 In my opinion, any young player should have been made captain rather than Shahid Afridi. It would have provided the impetus to the team. The problem with Shahid Afridi's captaincy is that he doesn't give space for younger players to groom. Shahid Afridi has done couple of things which fail to set him as an exemplary captain. His issues with team management and on field actions such as biting the balls are few to tell.
T20 is a short format where we can give chances to youngsters but PCB seemed to have wasted two years in which they could have groomed a new young captain. We can exemplify from our rivals Indians in this case. We saw MS Dhoni working to groom Virat Kohli as the next potential captain after him, why can't senior players like Shahid Afridi or Misbah work in the same way to groom Ahmed Shahzad or Asad Shafique.
However; one can see Shahid Afridi as a suitable captain for T20, only looking at his style of playing and ignoring the other fact. But, he cannot be a successful captain in ODI's. What we witnessed in the case of Hafeez is about to happen with Misbah, the only difference will be the ever more drastic effects on prospects of Pakistan in the Cricket World Cup 2015.
Misbah is the man who has led Pakistan through hard times and leading the team through ups and downs. He is well equipped with the experience and temperament to lead the side in the Cricket world Cup 2015. We can say that abandoning Misabh will be abandoning the World Cup 2015.
So I will end with these two advices to PCB. Let the Misbah stay as captain for the Cricket world cup as he is the one with the right experience and the right talent and temperament to perform and boost the boys for the grand series. Secondly, promote the culture of grooming and encourage captains to groom young players as leaders. This will have two impacts.
Firstly, their individual performance will improve and secondly, leadership skills will make them more responsible and disciplined towards the game. Imagine, if we continue with the Afridi, Misbah, and Hafeez for few more years, then soon there will be point when they all will retire and Pakistani cricket team will be left leaderless and in shackles.