Pakistan bowler Shaheen Afridi nikkah with former captain Shahid Afridi's daughter Ansha in a modest Karachi mosque on Friday. 
The Nikah was done in the Zakaria Mosque by Maulana Abdul Sattar, and the bride's rukhsati would take place later.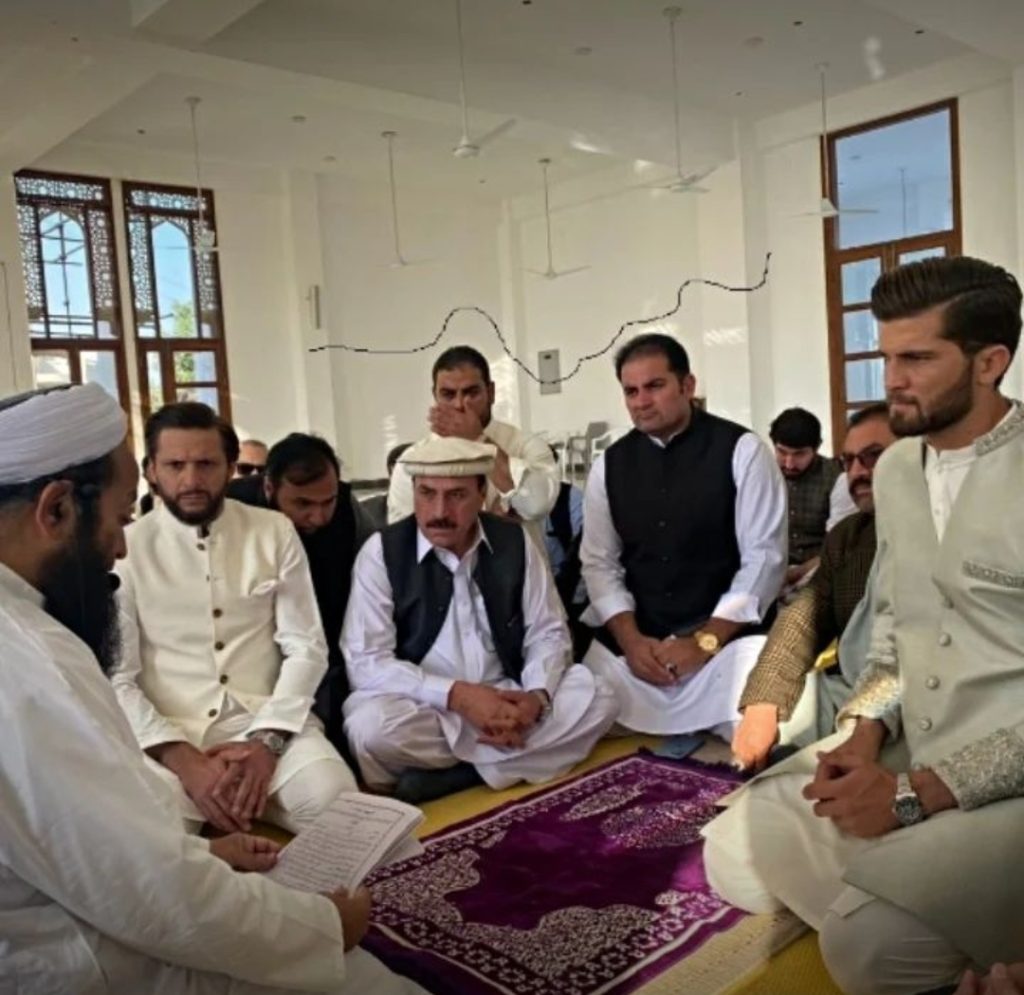 Shaheen Afridi Nikkah With Afridi's Daughter Ansha Afridi
The wedding date for these two attractive people to get married and start a new life is set for February 3rd of the following year, which was last year's December date.
Soon after the Nikah, a reception was organised, which was attended by cricketers Babar Azam, Sarfaraz Ahmed, Naseem Shah, and Shadab Khan, as well as squash legend Jahangir Khan.
Wasim Khan, the General Manager of the International Cricket Council, and Asim Bajwa, the former Director-General of Inter-Services Public Relations, were also present at the event.
According to family members, the couple's mehndi ceremony took place yesterday night. Meanwhile, Shaheen's family had arrived in Karachi two days before to attend wedding festivities.
The couple got engaged two years ago. In an interview with Geo News the left-armer stated his desire to marry Afridi's daughter.
Here is the Video:
After the nikkah Pakistan cricket team Captain Babar Azam congratulate the newly groom Shaheen Shah Afridi.
After Shaheen Afridi Nikkah
"It was my wish, and Alhamdulillah [thanks to Allah Almighty], it is now accomplished," Shaheen stated during the interview, blushing.
When questioned if he was envious of his female admirers, Ansha, 22, replied, "I am not sure, maybe she feels something like that."
The host addressed the young runner about upsetting his many female admirers by getting engaged so quickly, to which he replied, "I found my heart, and that's enough for me."
With his side, Lahore Qalandars, as the reigning champion, Shaheen will be seen next in action during the upcoming eighth season of the Pakistan Super League, which begins on February 13.
Recently, the Pakistan superstars all rounder Shadab khan got married with saqlain Mushtaq daughter in a private wedding last week. 
What do you think of the story? Tell us in the comments section below.