Pakistan's Armed Forces and their sacrifices to protect their motherland and its people deserve immense salutation. As much as the nation respects the men in uniform, their families are also praised equally. Recently, a letter from Captain Asim Kareem Shaheed's wife was seen on social media and Pakistanis can't hold back their tears.
"With a high-grade fever, running nose, and some hidden uneasiness, I waved for the one last time to Asim, who was going back to duty on 2 February 2010 after spending few days leave at Multan. He was posted at Multan, but was asked to fly a mission in FATA," she penned down.
She added, "I salute you Asim; each day I miss you more than the previous day, but being widow of a shaheed is a pedestal that you bestowed upon me, forever. Capt Asim Karim Khan Shaheed (Tamgha-e-Basalat), originally from Malakand, KP was commissioned in 41 Signals Battalion."
After…
"A short while after our marriage that took place on 12 August 2006, I was diagnosed with cancer. He looked after me in the best possible way and was my biggest support during that difficult time. He would often tell me, 'fight it like a soldier,' and I survived through the challenging treatment of Cameo Therapy. That illness brought us more closer."
"On the fateful day of his Shahadat, he was assigned a mission to destroy hideouts of terrorists in Tirah Valley, Khyber Agency. Asim, I am told by his colleagues, as always accepted the challenge with a smiling face and flew into the heartland of terrorists; pounded them with bombardment before his helicopter was hit by a rocket launcher round taking him to the highest level of respect and honor."
'You were my husband, you are my pride'
Heartbroken wife pours down her heart and writes, "Dear Asim, I never saw snowfall in mid February but once I did, was the day you wereburied. It was like white flowers sprinkled over whole Malakand Division from heavens."
"You always craved to be a Shaheed, and Allah fulfilled it as a reward for you. "We soldiers take an oath that we will fight for this motherland and we do so till our last breath," used to be his word whenever I asked him about the War on Terror."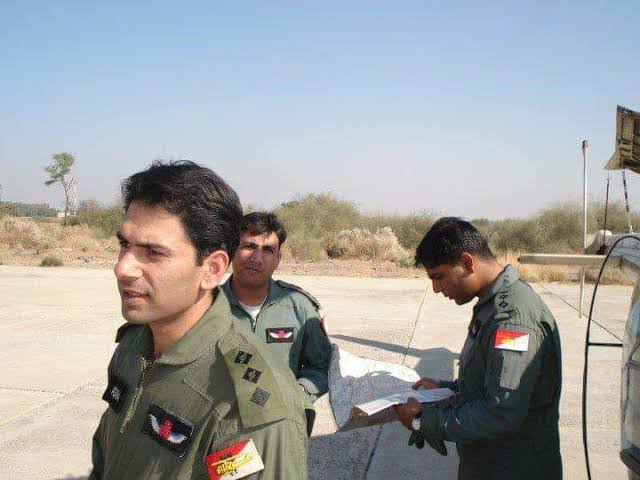 "Dear Asim, nobody has forgotten you. On every occasion, I am called and they talk to me about you and your sacrifice. Pakistan Army is looking after me and always honors me at each step. This is a treatment that your Army is giving to all Shuhada's families. We all are proud of Pakistan Army, even that you no more wear Khaki."
"Shaheeds are the true pride of the Nation; they sacrificed as we live on. I always felt proud when you were around. But I feel even more proud of being a widow of Captain Asim Karim Khan Shaheed (Tamgha-e-Basalat). You were my husband, you are my pride."
From: Mrs Captain Asim Kareem Shaheed, Tamgha-e-Basalat.
No words suffice to describe and serenade what these courageous men have done for our nation. Their acts of bravery leave us speechless and heartbroken. May their souls rest in peace.
Read More: Shaheed Cpt. Akash Rabbani's Mother's Heartfelt Letter For Her Brave Son Is So Powerful, It Will Make You Cry!
What do you think of this story? Let us know in the comments section below.