After receiving a barrage of criticism for his use of Punjabi cuss words, Special Assistant to Prime Minister (SAPM) on Political Communication Shahbaz Gill on Monday attempted to brush off his lack of decorum by trying to justify his use of expletives during a media talk outside the Supreme Court building in Islamabad.
When confronted by a journalist on his consistent and liberal use of expletives, Gill gave an appalling response. "Every region has its own use of euphemisms and linguistics," he told the journalist.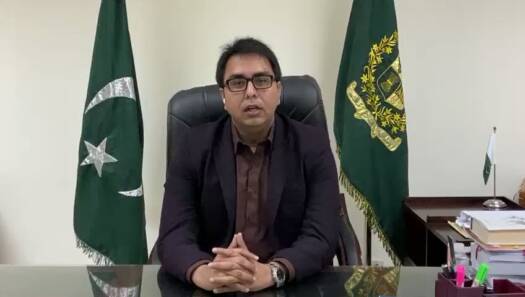 He expanded by saying that he was not aware that the words in question r*nd* [prostitute] and d*l**a* [pimp] were considered swear words. Speaking further, he asserted that he was not aware that certain words are considered obscenities, insisting such words are frequently woven into everyday conversation in Punjab.
"In Punjab, when a woman's husband dies, she is called a r*nd* [prostitute] and when a man's wife dies he is called a randwa [widower]," Gill added. "A broker is called a d*l**a* [pimp] in Punjabi."
Gill stated that he was told by a fellow party leader, that the words he used were considered obscene and crude. The journalist tried to refute Gill's explanation by denying that such expletives are commonplace in Punjab and in the context that he mentioned.
However, Gill dismissed her. "I am explaining to you, this is how it is in Punjab. You are not Punjabi," he said. Of course, Gill's justification for his abrasive language has been met with criticism once again on social media.
Have a look at it:
Political unrest is roiling the country at the moment, with the opposition submitting a no-trust motion against Prime Minister Imran Khan and him scrambling to gather support.
While the opposition's no-confidence motion is straining PM Khan's government, the ruling PTI leaders have sharpened their tone not only against their opponents but also against legislators who have revolted against their own party.
Gill came under fire last week after he called estranged lawmaker Ramesh Kumar a pimp on live television. When Gill questioned Kumar about his reservations about Prime Minister Imran Khan in a heated conversation, Gill called Kumar a "political pimp". Kumar also sent Gill a legal notice for using inappropriate language and making "baseless allegations" against him.
Meanwhile, Information Minister Fawad Chaudhry also issued a sharp rebuke to the dissident group of lawmakers, saying that "shameless [MNAs]" should first step down and contest election independently if they want to vote on the no-trust motion against the premier "according to their conscience".
WATCH: PTI Leaders Lose It On Live National TV & Blatantly Swear At Opponents
What do you think of this story? Let us know in the comments section below.