Former Pakistan cricket team captain Sarfaraz Ahmed currently got into a heart-warming tweet exchange with none other than the heart of the Pakistan cricket team Shadab Khan. And why it happened?
It all began with Sarfaraz who shared a cute video of his son showcasing classic bowling skills and grabbing everyone's attention.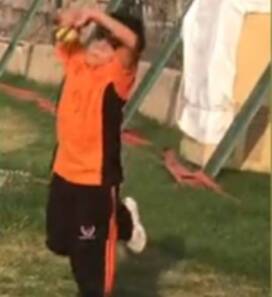 Abdullah, 5, can be seen bowling to his father, Sarfaraz Ahmed, at the National Stadium, he's purely copying the bowling action of Shadab Khan and Saifi referred to Shadab and said to check it.
Shadab & Sarfaraz Twitter Exchange
Sarfaraz tweeted a video of him and his son practicing at the National Stadium. He also tagged Shadab Khan.
Shadab Khan gave a classy response to his former captain and wrote, "Abdullah first took my place in Saifi Bhai's heart, now he will take my place in the Pakistani team."
On Shadab's reaction, Sarfaraz wrote in reply that this will not happen, you and Abdullah both came together in the heart and will always remain.
Shadab Khan Response To Sarfaraz Ahmed & Expressed His Love For Him
Shadab concluded the exchange by expressing his respect for Sarfaraz and thanking him for everything.
Back in 2020, Sarfaraz's captaincy was taken by the PCB and Babar Azam replaced him as the new captain in the ODI format as well.
What do you think of the story? Tell us in the comments section below.