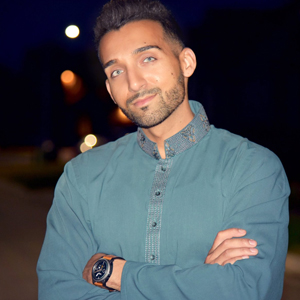 Sham Idrees or according to his real name Ehtesham Idrees, born on 16th October 1988, is a Pakistani Canadian musician, YouTuber, and social media personality.
He is one of the most famous Pakistani influencers with millions of followers on many social media platforms. The massive revenue he generates is through his fame on YouTube. He has two YouTube channels with about 1.7 million subscribers. This includes him in the category of the most successful Pakistani YouTubers.
His content is usually entertainment while on his second channel he posts vlogs on a frequent basis. Moreover, he has also become a fully-fledged entrepreneur with consistent earning. According to Naizbuzz, he holds an estimated net worth of $3 million. This was updated in the middle of 2018. The statistics must have changed as his fame and career grew even more.
Personal Life:
Shaam Idrees was born in London, England. He has four brothers and a younger sister. He also claims that the famous former one direction singer Zayn Malik is his second cousin. He usually showcases his little sister in some of his vlogs. Even though he lived far away from his native home, yet he can perfectly speak Urdu and his proud of his heritage.
Sham along with his family left London to move to Ontario in Canada. At that time he was just 10 years old. He completed his bachelor's in Commerce from the University of Ontario. He studied Marketing at Toronto University after he decided he would not be studying finance. Sham had to stop his education for a while because of a serious disease called the Ulcerative Colitis.
He has a well-known friendship with Queen Froggy. She appears in a lot of his videos. People considered they might be dating after seeing how close they are regularly. However, sham kept denying such rumors because he only considers her as a friend.
Though, they married in early 2019 and broke the internet with their wedding pictures. People were truly happy for the young couple and wished them well. There were rumors that he was dating a girl named Nayab. But these were just rumors with no actual confirmation.
Sham is also a major fan of luxury cars and often shows his collection of such cars in his videos. He owns various expensive cars like Ferrari, Lamborgini, Dodge Viper, etc.  He is famous enough to promote and perform in countries like USA, UK, and Canada as well.
Career/Fame:
Sham rose to fam in 2012 when he released his debut single 'Bolo Na'. It ended up charting and topped the UK Asian charts. Then he followed up by releasing other hit songs like 'London 2 Paris' that got millions of views and gained success worldwide. His other songs like 'Pyar Hoa' and 'Fame and a Girl' also saw heaps of success. Moreover, he remixed the infamous 'Dil Dil Pakistan' that went viral all over Pakistan. Huge news channels started talking about it and he even performed on radio stations.
Then in 2013, he started making humorous videos. Most of the videos are pranks that he pulls. Considering his success and funny nature, he ended up gaining a lot of attention for his pranking videos as well. Initially, his YouTube channel was meant for a musical career. He even released his own album on December 20, 2013 called 'London2Paris'. The album had songs like 'Bewafa', 'Deewana', 'Pyar Kia Tha' etc.
Sham also used his YouTube platform to make music videos. His friend, now wife, starred in a couple of his music videos like 'Jaane Jaan', 'Who Pal', and 'Shadi Kar Le' etc. Moreover, he has also participated in web series along with her.
He also sells his own merchandise which is a clothing line named as Rebel.
With the money he has accumulated throughout his career, he has also donated to charity. Apparently, he donated about $100,000 dollars to a charity organization.
Controversy:
His first renowned controversy occurred in April 2018, when he posted a video of an accident that he and Froggy suffered. Basically, their car ended up colliding with another. Instead of handling the situation like anyone else, Sham started recording the whole scene and posted it on his social media. He thought the gesture would be harmless but people were furious. It seemed like he was desperate for views and attention. He received quite a lot of backlash and still does so for this action of his.
Next is the most recent drama that his career has ever witnessed. Ducky Bhai, a well-known Pakistani YouTuber with millions of subscribers, made a YouTube video calling out Sham and Queen Froggy for making fake and scripted prank videos. As Ducky Bhai is a trending YouTuber in Pakistan, the video became a hit. A lot of people started turning away from Sham and he suffered a loss.
Then he and his partner decided to lash out against Ducky Bhai. They took to Youtube to expose and drag the Youtuber. They tried to prove their innocence. Hence, a fight broke out between them and it was definitely the biggest drama for the Pakistani Youtube community. There were supporters for both sides and things got messy.
At a meet and greet by Sham and Froggy, people assaulted the couple.  It is also said that it was a rumor yet there is evidence that the incident occurred. People felt ashamed and decided to withdraw from the drama.
However, after Ducky Bhai revealed that their videos are fake, a considerable amount of people have stopped supporting him. The hate towards his content is visible, especially on his YouTube channel. Sham and Froggy tend to show that they are unbothered by it. Yet, it has hit a crucial spot in their careers. If it weren't for the popularity of Ducky Bhai, this could've been a simple 'calling out' video but as it started trending the minute it was uploaded, the drama caught even more fuel.
Social Media Handles:
Here is a collection of the biggest social media platforms he owns: