Disclaimer*: The articles shared under 'Your Voice' section are sent to us by contributors and we neither confirm nor deny the authenticity of any facts stated below. Parhlo will not be liable for any false, inaccurate, inappropriate or incomplete information presented on the website. Read our disclaimer.
Few recent incidents have compelled me to ponder on this very fact that since when did we start taking mockery as a source of entertainment? Making fun of others and humiliating them based on their seemingly weak features is what we find our peace at these days.
In an era of widespread technology, humiliation and bullying have reached an alarming peak of danger followed by deadly consequences for the victim(s). It all gets even worse when one is degraded for failing to attain proficiency in a certain language.
Countries like Pakistan and India, which went through a period of slavery, observe a complex linked to their predecessors' language. Thus, the English language is seen as a benchmark of supremacy in our society that is still slave mentally to the western customs and traditions.
Let's revisit several times when we abashed famous and infamous people for their errors in English fluency and let them fall prey to malignant cyber bullying:
1. 'We Are Proud Of You' Girl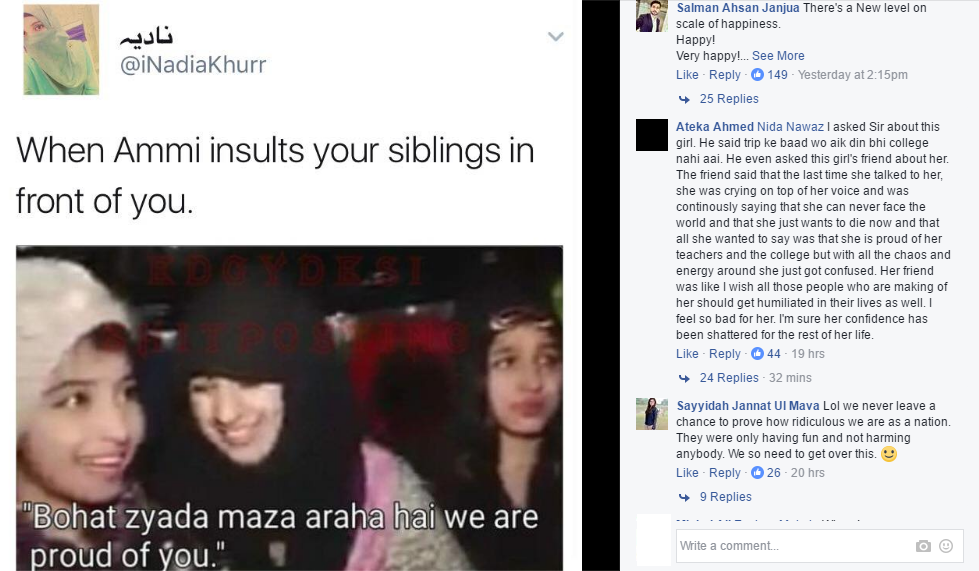 Students from Aspire College Lahore were vacationing in Murree and enjoying live snowfall when a news reporter ran into them and inquired them about their feelings regarding the trip. Excitement over live TV coverage is pretty much normal and inconsiderable. One of the girls couldn't hold her emotions in, and hastily ended up misusing a phrase by saying, "We are proud of you. Humey bohot maza aaraha hai (We are having a lot of fun)."
Now, we are oblivious of the background of this statement of hers. We don't know if it was just due to sudden exposure to live TV or did she want to express how proud she was of her college and teachers, or perhaps her family and friends. We never know the real story. Yet, this girl was mocked.
Her video got viral all over the social media and she became victim to thousands of insulting memes, tweets and reaction videos. As a result, reportedly, she went through a phase of insecurity and probably felt ashamed of herself for we shattered her confidence into uncountable pieces.
All salutations to God that she is back to normal life now and didn't end up killing herself for a thing that was not even her fault in the first place. Although, she recovered from the psychological trauma but she did not deserve this. We as a nation broke her confidence and destroyed her innocence.
The irony is that many involved in all the mockery against her are not even ashamed of this act. However, the majority of the nation realized that our humor is not at all funny at the cost of damage to an innocent girl's lifetime boldness and courage.
Dear girl, we are sorry and we are proud of you. Keep shining!
2. Shoaib Akhtar's Tweet
Shoaib Akhtar, one of the most legendary cricketers Pakistan have ever seen, came into limelight when he posted a tweet composed with broken sentence structure and was filled with grammatical errors.
Social media users mocked him for imperfect English.
Perhaps, due to the negative backlash he received, he removed the original tweet and tried his best to fix the errors.
Did he deserve all this criticism? Absolutely no! He is a national hero and we take pride in his sporting skills and not in his grammar.
3. Pillion Rider Guy
There was a guy who was reportedly involved in pillion riding when it was banned by a local administration and a media reporter inquired about the scene. Just like everyone else, the boy started off with English although he couldn't continue well with it. His video went viral all over the internet and he was also mocked for failing to speak English.
These and many other times, we as a nation made few people's lives miserable just because they couldn't meet the criteria of language proficiency set by us. But perhaps, it is enough. It is high time we move on and improve our quality of humor and ensure that we do not entertain ourselves by humiliating others.