Serene, a private airline plane had to make an emergency landing at Jinnah International Airport, Karachi, minutes after it left for Islamabad, owing to an engine failure technical fault, on Thursday and escapes mishap.
According to CAA sources, Serene Air flight ER 504 was en-route from Karachi to Islamabad during which the plane suffered a technical malfunction. A few minutes later, the Islamabad-bound flight, ER 504, diverted back to the Karachi airport where it made the emergency landing.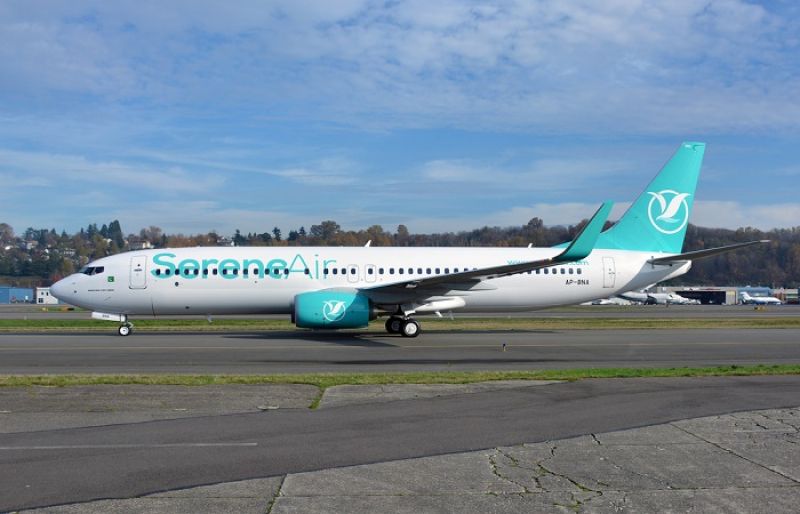 The plane following the directives of the air traffic controller safely landed at Karachi's Jinnah International Airport. The passengers were initially shifted to the airport lounge while following the COVID-19 precautionary measures.
According to sources privy to details, Serene Airline plane had engine failure issues 20 minutes after the flight took off but escaped any big disaster. In addition to this, the CAA sources added there were more than 200 passengers on board. All passengers on board are safe. The passengers were taken off the plane and escorted to the lounge.
Moreover, a spokesperson for the Serene airlines said the passengers on the affected flight who do not wish to continue their journey could get their tickets refunded. Whereas, the passengers who wish to continue their journey must wait at the airport.
The sudden shortage of oxygen in the cabin
The plane, carrying more than 200 passengers, had a sudden shortage of oxygen in the cabin, which caused difficulty in breathing for passengers. Moreover, during the flight, the passengers informed the air hosts about the lack of oxygen.
Later, the passengers were informed that the aircraft would land back in Karachi due to a technical fault in the engine, which caused a ruckus in the flight. According to sources, the Airbus 330, recently added to the fleet of the airline.
It is crucial to mention here that on May 22, 2020, the PIA plane crashed into a crowded residential area after both engines failed as it approached Karachi airport for a second landing attempt. Killing all but two people on board, and a child on the ground.
Many passengers were traveling to spend the Muslim holiday of Eid-ul-Fitr with loved ones. Buildings were torn apart after the plane's wings sliced through rooftops, sending flames and plumes of smoke into the air.
By good fortune, the Islamabad-bound private airline flight nearly escaped disaster after one of its engines failed mid-air. Moreover, all on board escaped unhurt.
What do you think of this story? Let us know in the comments section below.