Social media has become an integral part of our lives and is the go-to source for entertainment, news updates and now to even earn a living. However, not every person can keep up with the advancing technology and be tech-savvy, making blunders that you cannot hold against them. But what is hilarious is when your own politicians make an online mistake, considering they are important figures with millions of followers and eyes on them.
Like recently, the KP government went live on Facebook with a cat filter on which went viral giving everyone a great laugh. Imagine thousands of people tuned in while you continue with your conference with cat ears and whiskers. Cute!
According to KP government's social media team we now have a cat in the cabinet #Filter pic.twitter.com/LNl7zwOfLU

— Mansoor Ali Khan (@_Mansoor_Ali) June 14, 2019
Following in their footsteps committing another social media blunder is Pakistan People's Party senior leader Senator Rehman malik.
Rehman Malik Tagged UNO Game instead of the United Nations in his tweet criticizing Modi for not allowing the opposition delegation to visit occupied-Kashmir.
A mistake that is definitely innocent but quite funny.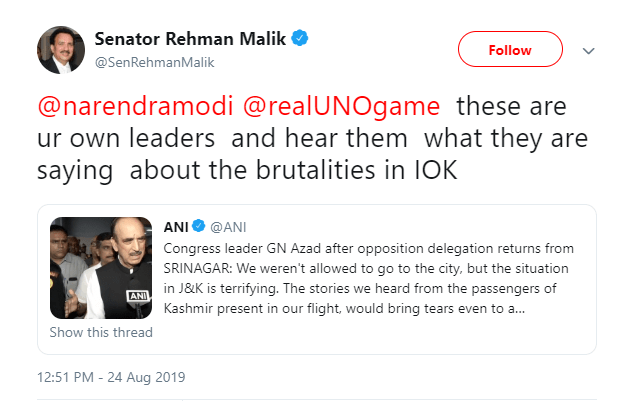 Surprisingly the Senator hasn't quite caught on to this gaffe to delete it instantly. Pakistan's politicians have been playing their part in exposing Modi and his party's real face to the world by whatever means available, including making complete use of these social applications. However, Rehman Malik's tweet that was meant to highlight an important issue has turned into a comedy bit.
UNO is a famous multiplayer game that has been an important part of every kid's childhood, in case it wasn't the case with you then it is never late to play UNO again. Now, with every game turned into a proper gaming application, it is easily available in the app store. UNO will not disappoint just like our Senator Rehman didn't by making this latest blunder. Looks like he played the wild card and hopefully, Modi's on the losing side.
However, this slip can be made by anyone and Senator Rehman's intentions are clear as day which is to speak up and raise his voice against the atrocities being committed by the Indian military under the rule of Modi, involving severe human rights violations where Kashmiri women are being raped and harassed, protestors are being shot with pellet guns leaving them permanently blind and silent genocide that is being carried out in attempts to wipe away the entire Muslim majority population.
Every voice raised, whether by our politicians or the general public counts. Hopefully, PM Imran's efforts will come to fruition and occupied-Kashmiris will get their due rights and freedom! Amen.
What do you think of this typo made by Rehman Malik? Let us know in the comment section below!