Senator Rehman Malik's naivety or obliviousness is nothing new to the Pakistanis. This particular politician has conveniently embarrassed himself on more than one account on social media alone. However, with intentions that can be categorized as pure. To further solidify his innocence, he made yet another blunder by 'blessing' a misleading tweet that includes a picture of former-adult star Mia Khalifa.
Senator Rehman Malik takes the bait.
A Twitter user tagged Rehman fooling him with pictures of adult stars in hijab as 'influential Bollywood actresses' in solidarity with Indian Muslims over CAA. He readily believed it to be true and thanked Mia Khalifa and others by tweeting, "May God bless her".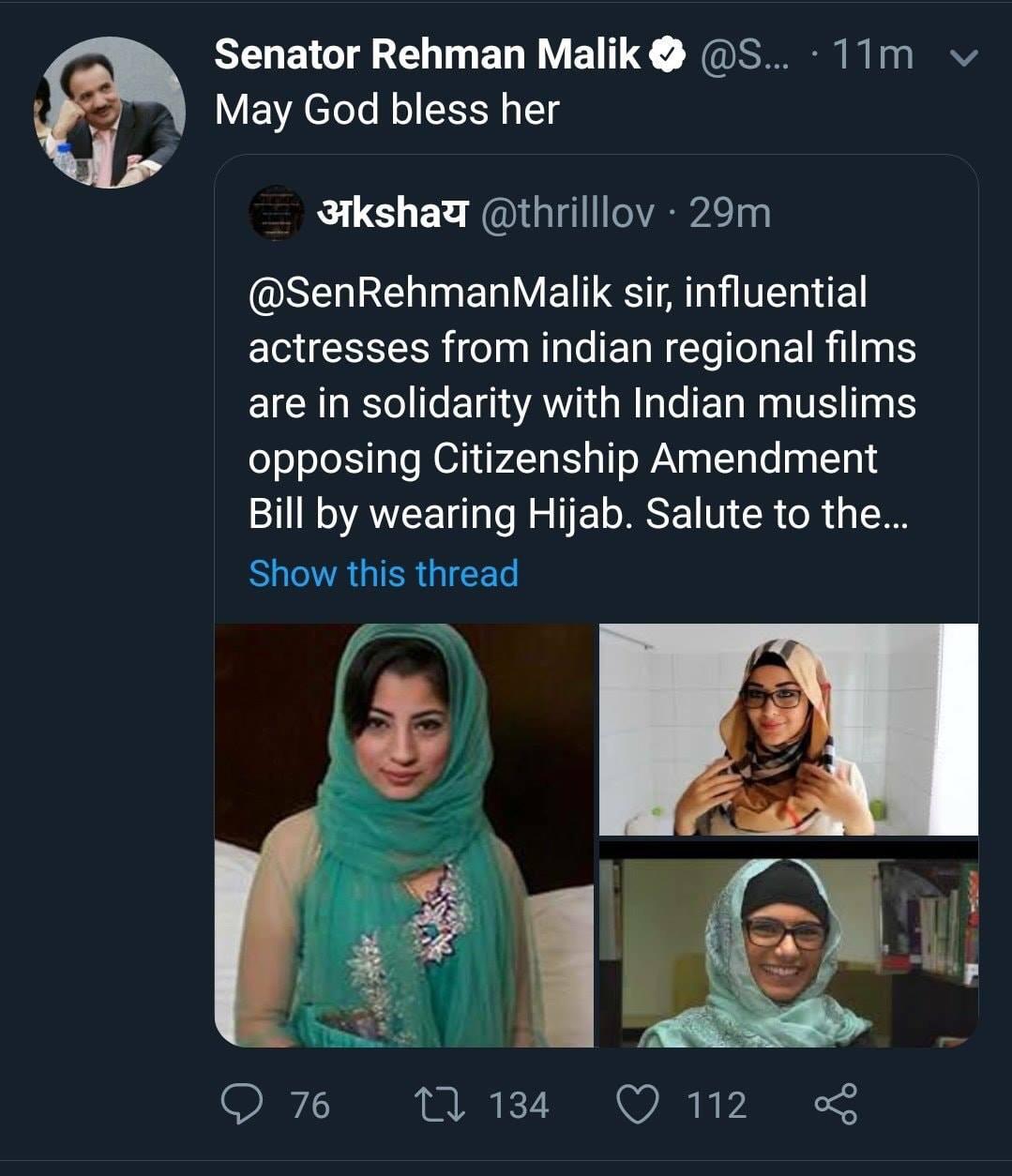 After he showed his gratitude, many came to the naive senator's rescue and tried to guide him about what has actually happened. However, Rehman didn't seem to catch on until much later. Hence, the tweet is now deleted. BUT, he did start a long thread scolding the trolls on 'exposing' these Indian sister(s).
Rehman Malik comes to his own aid clarifying his honest-mistake.
The trolls 'insulted' their own Indian females by exposing them as adult stars, says Rehman.
I retweeted a tweet on my own and nobody told me. How foolishly some indian intel agent try to troll me where as infact they insulted their own Indian females by exposing them being porn actress .As Tweet by an Indian did not mention them as porn girls but regional actresses. https://t.co/Tj7zDzj64J

— Senator Rehman Malik (@SenRehmanMalik) December 30, 2019
Immoral and unethical behavior by the Indians, maintains Rehman in another tweet.
it is highly immoral to expose your own indian sisters as porn girls .I think these girls r more respectable than you at least they stood agst the discrimination agst Muslim even if not then u made them victims in the social media .
I wish these females shd take u to the court https://t.co/SN3ChrpWc4

— Senator Rehman Malik (@SenRehmanMalik) December 30, 2019
Senator is definitely offended; turning the tables on the trolls.
These porn girls including other Indian sex workers have also voted PM Modi then will u troll Modi having been voted by porn & sex workers .
it is ur poverty in ur own country which has made them porn actress/ sex workers .Is there any NGO/ court which may act https://t.co/aksufUafv7

— Senator Rehman Malik (@SenRehmanMalik) December 30, 2019
Moreover, this wasn't the only highlight of 2019, although the ending one indeed. He also previously, tagged UNO (the multi-player mobile game) instead of the United Nations. The poor bloke was made fun around the globe and not just within Pakistan. However, Rehman didn't come slow on these Indian pranksters. His lectures in morality and ethics regarding respecting sex-workers was definitely touching, to say the least.
Rehman orders strict action against accounts spreading blasphemous content.
In another news Rehman Malik has taken notice of the blasphemous content on social media. He directed the FIA and PTA to take strict actions against some accounts and their holders. In addition, he also advised the FIA and PTA to take matters with Twitter administration if need be. One account, in particular, has been named by the sources – @AneelaEhsan. This account on Twitter has been actively spreading blasphemous content and has been reported by many users.
The Chairman Committee stated. "This anti-Islam propaganda is against the UN Charter on interfaith harmony. This blasphemy material may create law and order situation in the country as it is highly derogatory and anti-Islam"
All in all, senator Rehman is busy with the dealings pertaining to real issues and as always, this blunder of his will also subside when something else arises. For now, Rehman has deleted the tweets along with schooling the Indian trolls on ethics and decency. What a way to end 2019!
On this note, Team Parhlo wishes you all a happy new year. 
Did you cringe at Rehman's blunder of 2019? Let us know in the comment section below!