We come across several incidents in Pakistan depicting how teachers beat their students for not learning a particular subject. Such teachers scoop out all their confidence by carving self-doubts in their minds. Within the context of a teacher abusing students in Pakistan, a video has recently gone viral on social media. In the video, a teacher of Shining Star School in Jhelum is seen torturing and beating young children.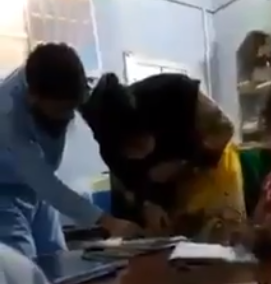 The students were unable to learn their subject. Instead of helping the children to learn, the school teacher in Jhelum is mercilessly beating them.
Many users on social media uttered their displeasure over the act of this beast, disguised as a teacher.
This inhuman act of beating children is not the question of just one immoral act in Pakistani schools. It sheds light on many other aggressive acts that stay hidden from the public's eye.
Thankfully, he has now been arrested for torturing young kids.
Rampant increase of child abuse in Pakistan
Cases of child abuse in Pakistan are becoming common and rampant. It is truly saddening to hear the news of minors going through torture and abuse every other day.
This is not the first act of brutality and violence in Pakistani schools. In August 2020, the news of a madrasa teacher beating a young girl with a piece of thick rubber pipe went viral on social media. The incident took place in Madrasa Khalid-bin-Waleed, Orangi Town, Mominabad, Zia-ul-Haq colony in Karachi.
Another incident took place in 2018. Another madrasa teacher beat a 9-year-old child to death. The student name was Mohammad Hussain. The teacher become violent when teaching the sacred text of Holy Quran to innocent little children.
Teachers need to be compassionate towards students
Abusing children for the inability to learn is unethical and immoral. Calling your student off for not being able to understand something is forcefully making them accept that they are dumb. Such teachers do not realize that their actions have a great impact on the individual's life.
These kids than live under a shadow their entire life and lack the power of independence throughout, they always look out for someone to save them or to depend on. Such incidents contribute to the low academic performance of students.
What do you think of this story? Let us know in the comments section below!