"Art, freedom and creativity will change society faster than politics." – Victor Pinchuk
Pick any culture from the past and it is quite evident that one that has been able to associate itself with art and possessed great thinkers has been able to stand out from the rest of the world for it shows the worth of its intellect and human capital that shaped the course of its present and future.
From Ancient Classical Art to the Renaissance period, all the way up to Contemporary Art, this field has been a depiction of the way societies progressed, through remarkable self-projection and a reflection of its current affairs.
Pakistan has had and continues enjoying its own share of highly talented artists with Sadequain, Abdur Rahman Chugtai, Eqbal Mehdi, and Shakir Ali to name a few; the list would go on indefinitely should we have continued on this topic.
There are some facts about art that may surprise you. For instance, did you know that Art used to be an Olympic event or that the masses were unaware of the Mona Lisa painting until it was stolen in 1911 and then returned two years later? History does not cease to amuse us and Art for that matter.
In a nutshell, art around the globe has unwaveringly united more people and created awareness about movements than perhaps any other field.
Zooming down to Multan; in a fascinating initiative, Pakistan's leading fertilizer brand, Sarsabz invited artists from across the country to pay tribute to the marginalized farmers who are persistently trying to make both ends meet yet help put food on our table. As part of the brand's Salam Kissan initiative, it organized a two-day wall painting activity titled as the 'Canvas Wall' held at Fatima Group's Pak Arab Plant in the City of Saints.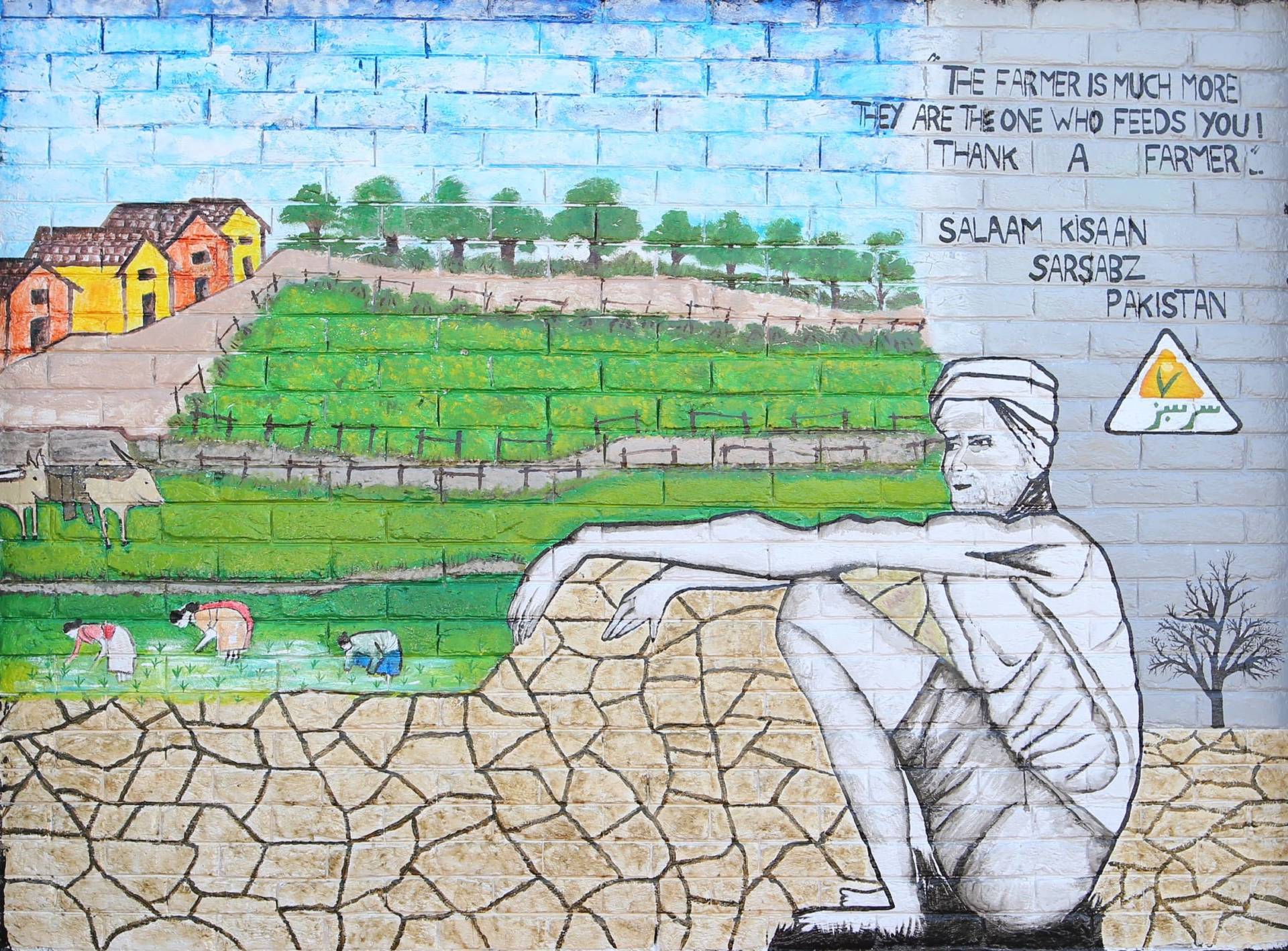 Much to the delight of the organizers, the initiative was welcomed by emerging artists with zeal and zest as 40 teams comprising of 127 participants participated to paint each 'Canvas Wall' with an agriculturally encompassing theme.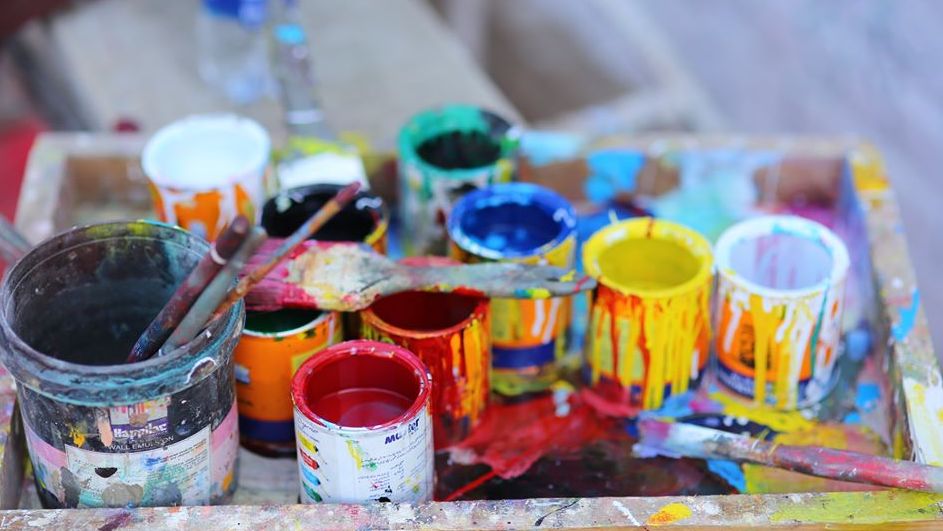 Each wall measured 8 x 10 feet, giving ample room to each group of two to four members to paint and depict the country's agricultural scenario and showcase how they perceive the farmers. In doing so, many groups highlighted how they see these farmers who possess the potential to take Pakistan on the path of economic prosperity as they are the key to curbing food insecurity faced by 60% of Pakistan's population.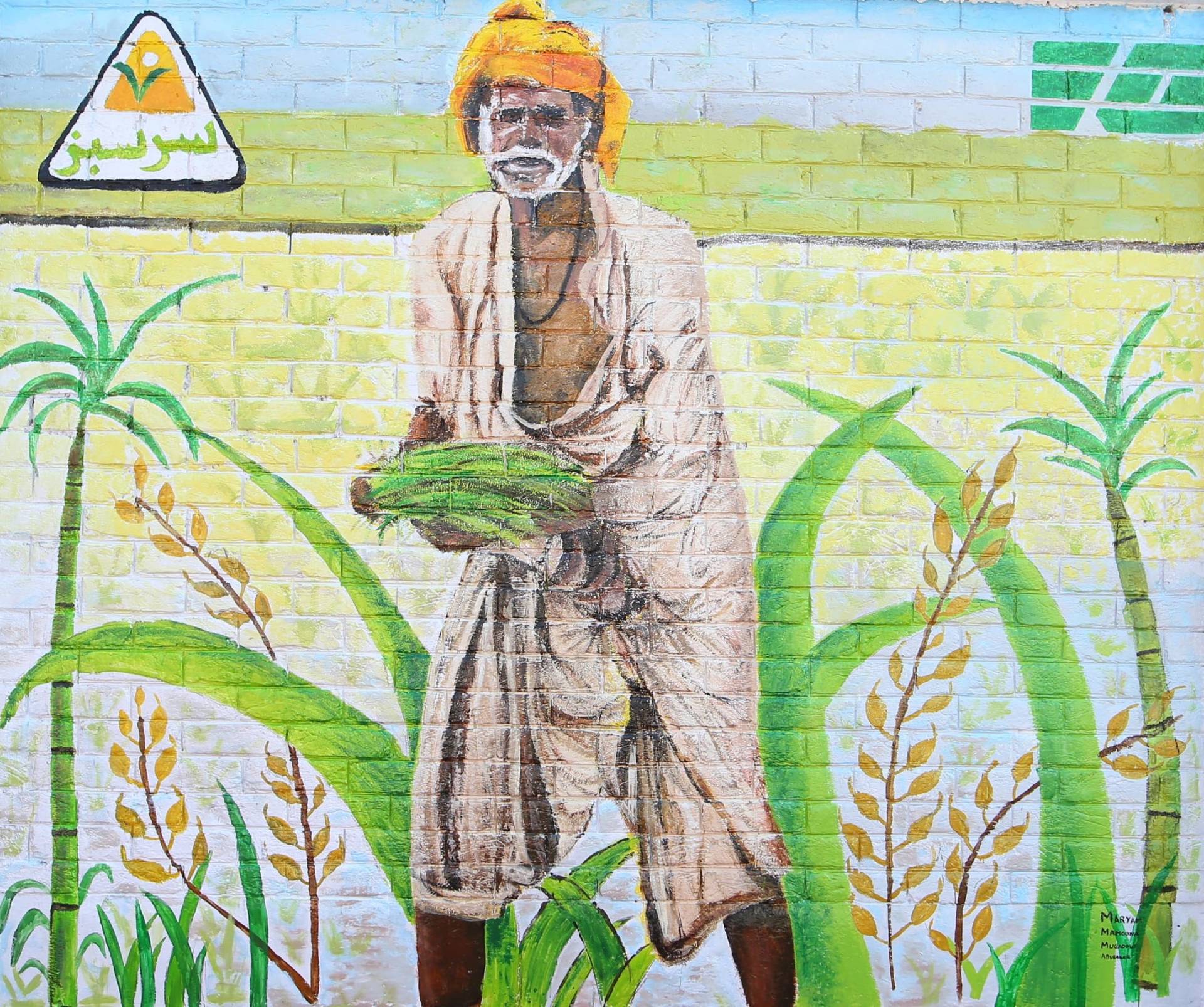 Post a tough competition, the top three themes were shortlisted and their groups were selected as winning participants for their depiction of the plight of these marginalized farmers and the agricultural sector within Pakistan.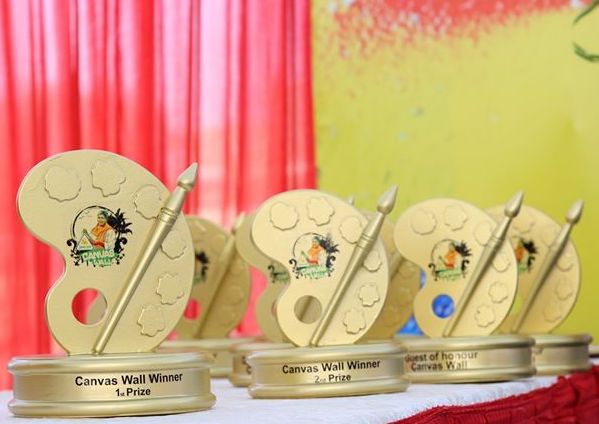 These winning depictions were painted by young artists hailing from the Punjab region, with the first winning team from Sialkot and the other two from Multan. The first position winners of Rs. 250,000 cash prize from Fatima Group was secured by Waqas Ahmad and his team.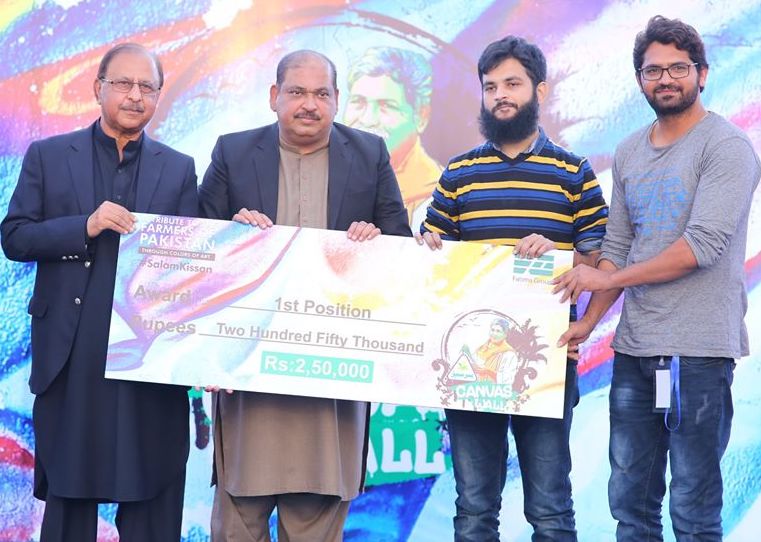 While the second position winners of Rs. 100,000 cash prize was bagged by team members Maryam Rana, Sumaira Munir, and Waseema Khalid.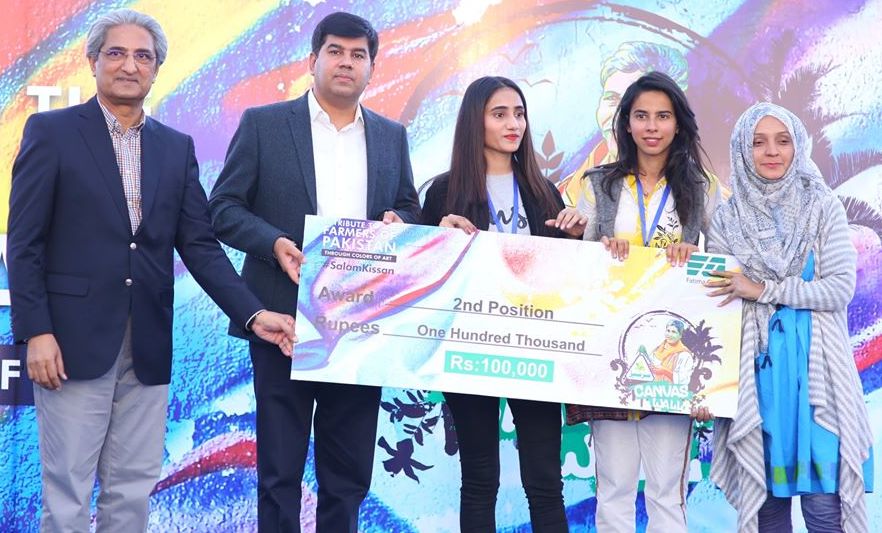 The third position winners of Rs. 50,000 cash prize was secured by team members Abubakar, Mamoona, Maryam, and Muqaddas.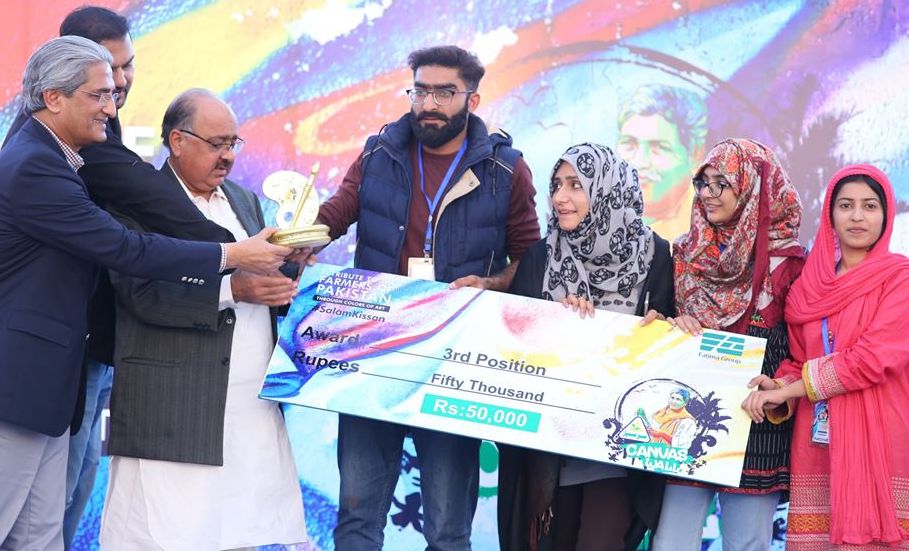 Considering the success of the entire activity and the artists' incredible dedication, they illustrated various scenarios from the depiction of the food chain, vast fields, all the way to harvesting and sowing seeds.
Pakistan is an agricultural country, however, a great chunk of farmers face turbulent times as a result of the feudal system, them not owning lands where they earn by the sweat of their brow and yet live in deplorable conditions. Much of this can also be attributed to the obsolescence of technology and shrinking of the average farm size which has shrunk to less than half the size from what it used to be in 1972, that is, from 13.06 acres down to 5.6 acres in 2019 on average.
Further, the growth of the agricultural sector has been quite negligible; being calculated at 0.85% in 2018-19 which falls short of the envisioned target of 3.8%. Considering that small scale farmers constitute 60% of Pakistan's rural population and their economic survival depends almost entirely on agriculture, a lot needs to be done at a mass level, perhaps even through public-private partnerships.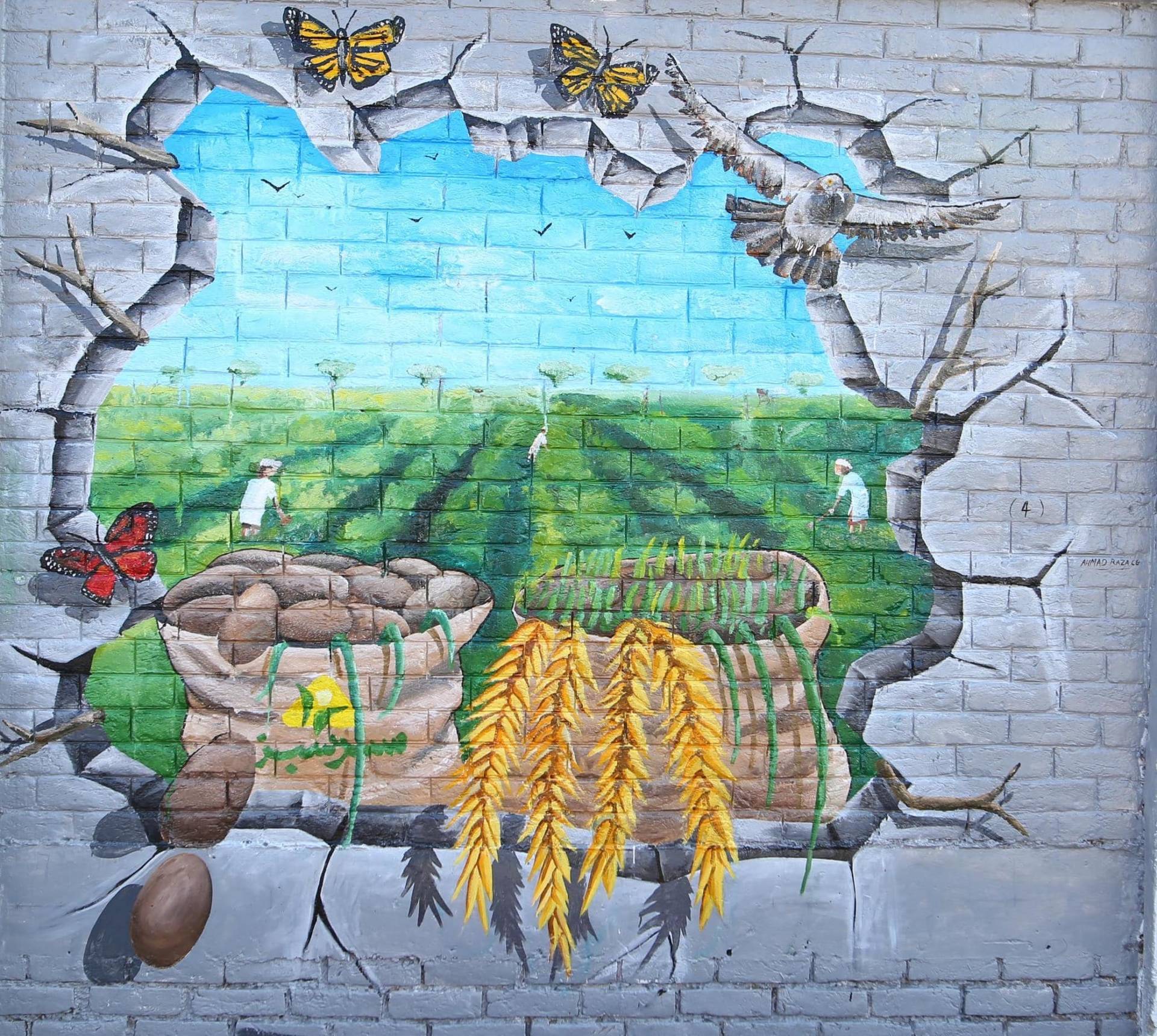 Fatima Group while realizing this situation, addressed the need of these marginalized farmers and introduced Sarsabz, the first-ever fertilizer brand that caters to the challenges of these farmers through modern technology-based solutions.
Under the 'Salam Kissan' campaign, the company has chalked out a gradual shift from a product-centric approach to a more customer-centric approach while celebrating these farmers, their efforts and recognizing them as partners. Through this bonding initiative, Sarsabz highlights the farmers' side of the story and gets them heard while providing them 360-degree agricultural services in the form of products, entertainment, and technical support, hence becoming a one-stop solution.
Here are some of the highlights from the event:
Insight of the event's success and participants' efforts, Sarsabz has announced a People's Choice Award which will be granted to the painting securing the most likes. The creators of that masterpiece will be featured in a prestigious newspaper as well. So, don't dally folks and show your support for your favorite team before the voting ends at 23:59 on December 10, 2019. Vote now!