Sarfaraz Ahmed was called 'Gareeb ka Bacha' (Child of a poor person) at the press box of Dubai as soon as he scored his second test hundred.  It does not literally mean that he belongs to an under privileged background, but this phrase is commonly used for a person who is always taken for granted.
With cricket world cup 2015 around the corner, Pakistani cricket team is still facing severe challenges in terms of its bowling/ batting performance and captaincy. Amid all this the second test century of Sarfaraz Ahmed has served as a breath of fresh air.
Sarfaraz Ahmed has now managed to earn much respect after scoring more runs than the rest of the team members in his last five Test Cricket matches, with an average of 63.50 runs and scoring hundreds in consecutive Tests. The recent century of Sarfaraz Ahmed was off 80 deliveries. This is the fourth fastest in century in the history of Pakistan and the second fastest by any of the wicketkeepers.
Sarfaraz Ahmed belongs to a religious family. He is a Hafiz, (someone who memorizes the entire Quran by heart). Sarfaraz Ahmed's father who owns a stationery shop in Karachi always discouraged Sarfaraz Ahmed to play cricket and wanted him to focus on his studies. Sarfaraz Ahmed did not give up on his dream and kept on struggling. Sadly, his father did not live long enough to see his success in cricket.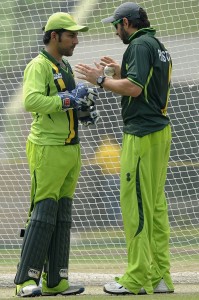 Sarfaraz Ahmed served as the captain of Pakistan Under-19 team that won the Cricket World Cup in the year 2006. The very next year he made it to the senior, A team but he was unable to give an exceptional performance until he scored 48 runs against Sri Lanka in the Sharjah cricket Test that was held earlier this year.
Earlier in his career he was not given enough chances to play for the Pakistani cricket team as he was not seen as an international player those years. Commenting on his initial struggle Sarfaraz Ahmed said: "Earlier in my career I was more worried about if I will get another chance to play the international cricket or not and that was the only thing on my mind."
Sarfaraz Ahmed further added:
"But now I am given all the support even though still I have a lot in mind but the focus is to perform. I am playing with more freedom and support back in the [dressing room] and [that has] helped me a lot in giving my performance. Players might have been performing individually but our efforts unfortunately are not able to win but I am hopeful soon we will be winning track again."
Sarfaraz Ahmed made a comeback in international cricket in January 2014. His test match scores were: 7, 74, 5, 48, 55, 52*, 103, 55, 109. These scores are worthy enough to land him a spot in cricket world cup 2014 and make him a long term alternative for the wicketkeeper-batsman slot. Keeping in mind the current situation of Pakistani cricket team, specially the batting side, Sarfaraz Ahmed can prove to be a fruitful addition to the cricket world cup 2015 squad.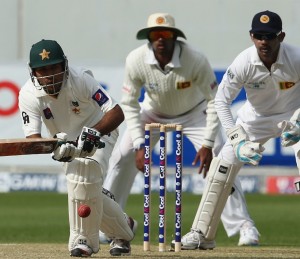 In the initial stages of his career, Sarfraz Ahmed was considered to be an excellent wicketkeeper but an average batsman. But now because of his batting skills, the Pakistan Cricket Board has started taking him seriously. Though he is content with his current performance and fitness level but he says that his best form is yet to come.
Sarfraz Ahmed's high-spirited celebrations after scoring a half century or a century show how desperately he wants to prove himself to the nation and also bows his head as a gesture of appreciation for the support he receives from the dressing room.
Although he bats at number 7, he always aims to score centuries. Sarfraz Ahmed has an average of 41.36 runs in first-class cricket and his highest score is 213* runs. When he was asked to comment on his test century, Sarfraz Ahmed said: "It is just a beginning… My number is low in the batting order and I had to play with the tail mostly but it is not like I cannot score big, but it is indeed a matter of opportunity. If I get a chance to play lengthy partnership with a player in the top batting order, I can do that."
With outstanding form of Sarfraz Ahmed, Pakistani cricket team does not only have a wicket keeper- batsman besides Akmal brothers, but Sarfaraz Ahmed can also be considered to be the captain of the Pakistan cricket team in cricket world cup 2015 because of his passion and determination to win coupled with his humble personality.