The beautiful and adorable actress Sarah Khan just tied the knot to singer Falak Shabbir and won all our hearts. Not only were fans completely in love with the couple rather the duo looked completely swoon-worthy on their big day.
While being invited on Farah Saadia's show the actress was asked about children and what kind of mother she would be. While showing her culinary skills on the show, the actress responded with a smile, that she would try her best socialize her children the same way her mother did.
In addition to that, Farah asks Sarah, wouldn't she want 6 to 7 maids to look after her and the household?
"If my children stay with the maids, they will adopt the same habits and I do not want that at all".

Sarah Khan
Sarah Khan on raising children!
And although she meant it in a clear way, it does sound a bit classicist. Agreed that Sarah Khan is known to have a very humble nature ; could it be that her role of Miraal, is somehow affecting her personality?
Or perhaps! she might just be an overprotective mother after all.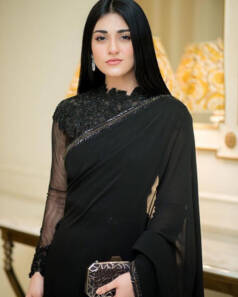 However, the queen of screens, adds later on:
"I will take care of my children myself and make them the person of my desire. After that, they should choose whatever profession they want".

Sarah Khan
And wow! It seems that she is going to be one kind of an over-protective mother after all. Just the thought of seeing Sarah Khan pestering over her children is adorable.
Sarah and Falak Shabbir recently got married in a beautiful wedding ceremony which was not only glamorous but gave us hope that love has no boundaries.
We wonder if Falak Shabbir is going to be a similar parent like Sarah or would he be the cool, fun dad. All in all, wishing both the stars the best of luck for their future.
What do you think of the story? Tell us in the comments section below.