Actress Sarah Khan just like every other Pakistani female celebrity received criticism on social media that usually crosses all limits of decency and takes a shape of blatant disrespect. It's actually commendable how they have developed a thick skin to not let these heinous comments hurled at their character, clothing and whatever they choose to do, affect their peace of mind.
In Pakistan's society, double standards prevail. Recently, so many actresses came under fire for things they chose to do with their own lives. But our awaam considers it their personal responsibility to nitpick at every move they make, reminding them the word of God while they themselves are 6 feet deep in sins.
Sarah Khan who is a remarkable actress and recently worked in a hit drama serial Band Khirkiyan making everyone glued to their screens was abused online over something so trivial that it is alarming considering the sick-minded freaks that sit behind a keyboard and curse away.
Sarah didn't shy away and schooled these haters keeping it classy!
She posted two sleeping shots that clearly looked acted out and the diva captioned it as such too. Her caption read, "As if I was really sleeping.#Sabaat @humtvpakistanofficial". However, some trash humans instantly judged her and went so far as to curse her out.
One of the comments went too far but Sarah's clap back was epic and needed. Sometimes, a shut-up call is necessary. The disrespectful comment came from a man, which isn't surprising at all. However, Pakistani men need to learn how to respect women.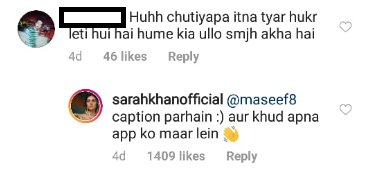 Haha, this was amazing. It's disgusting how quickly these men resort to trash talk when a female is involved; the real face of patriarchy. A lot of the people supported her saying she shouldn't have bothered. Unfortunately, we often forget that these female celebrities are regular human beings with a heart that does get tired with constant criticism over what they wear, how they speak and on every physical aspect of their lives instead of on their work or projects they do.
What are your thoughts on this? Share in the comment section below!