Actor Sarah Khan and Noor Zafar Khan's father, Zafar Ullah Khan, passed away a week ago, leaving the sisters deprived of both parents. Irrespective of such a huge and irreplaceable loss of their father's death, social media users continue their ill-considered criticism on Sarah Khan's drama teaser.
After their mother lost her long and painful battle with cancer in 2017, the Khan sisters became very close to their father. And now, the news of the sudden loss of their father came out to be truly heartbreaking. Both the actresses, their two brothers, and another sister are left with no parents.
While most rushed to comfort the sisters after this saddening news emerged, some trolls did not hold back their insensitive comments. Two days back, Khan shared a picture of the current drama serial Raqs-e-Bismil wherein she is playing the lead character opposite Imran Ashraf.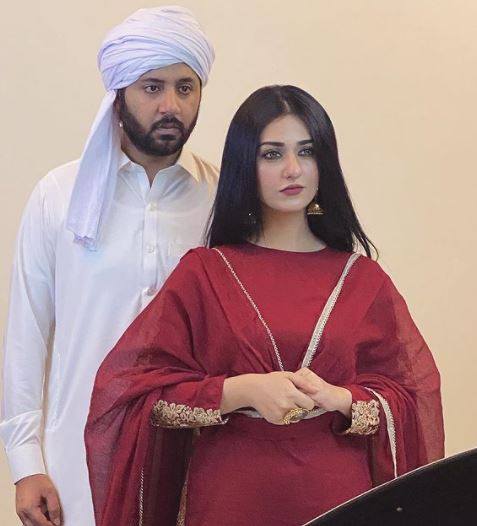 In her post, the acclaimed actress discussing her character in the latest drama wrote, 'Moosa Aur Zohra'. Seeing her share a picture of her drama a week after her father's demise, a troll came out of the woodwork and did not miss the opportunity to make an insensitive comment.
"You are worried about Moosa and Zohra! And your father? It has not even been a week since he passed away and here you are posting about dramas. Oh, God. What is this world of showbiz!" it read. Having none of it, the Dekho Chaand Aaya actress hit back at the troll. "Would my pain have lessened if I posted after a month? Does that even make sense?"
Check it out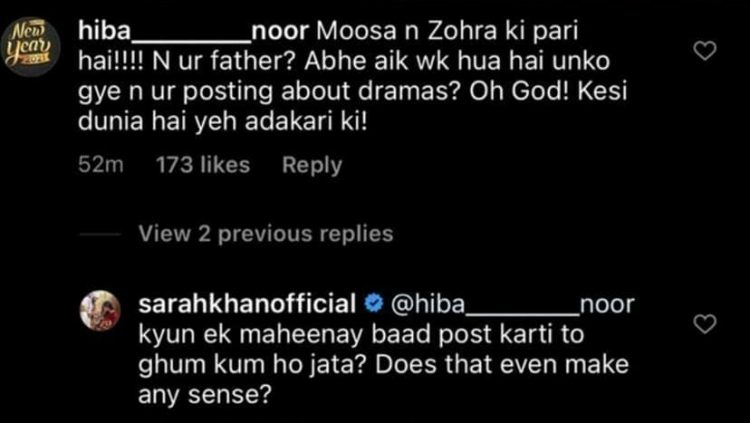 It must, however, be noted that the comment has been removed from the post.
Pakistani celebrities have been the target of vicious online trolls, and it is no secret. Social media accounts, who troll, make deliberately abusive and sexist comments in order to get a response from the public figure. However, given how hard these times must be for her, the least these trolls could do is keep their unsolicited and ruthless comments to themselves.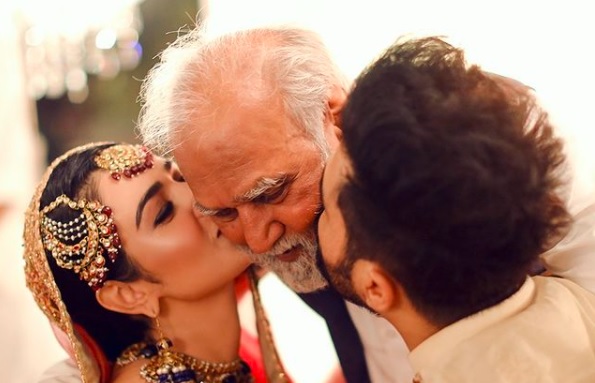 The news of Khan's father's demise was broke by her wedding photographer Abdul Samad Zia. "A heartbreaking news – Sarah Khan's father passed away," he wrote alongside a picture of the couple with her father on their wedding day. He added, "May Allah ease the pain of all family members and help them bear this loss, Ameen!"
Last week, Khan shared a touching picture, remembering her late parents, with an emotional and heartbreaking caption. She shared a heartfelt note with a painting she found close to her heart.
Two other sisters – Minal Khan and Aiman Muneeb lost their father last week. He was battling severe health issues. The latter's husband, Muneeb Butt, took to social media on Thursday and announced that the twins' father has passed away. We are deeply saddened by the loss of their father, and offer our heartfelt condolences to their families.
What do you think of this story? Let us know in the comments section below.