Pakistani young filmmaker Sarah Jehaan has won the first prize at the prestigious World Film Festival for her short film on climate change.
Our very own Greta Thunberg, made a short film 'Passoon' based on a young climate activist in Dir, Pakistan. In Pashto, 'Passoon' means to rise for a cause and that's what Sarah's film shows. It documents indigenous and innovative sustainability methods from Pakistan and celebrates the leadership of young, Pakistani women Manal Shad. Her film also highlights that Pakistani are overlooked in the climate movement.
Sarah decided to tell Manal's story because she came across a video of her on social media. In that video, Manal was giving a speech to a congregation of men in Dir about social issues in her hometown. It inspired her a lot to make a film on that young girl from the rural area of Pakistan.
"I immediately knew I wanted to get in touch with her. And once I managed to find her in Dir, I spent some days at her home and visited her school. I filmed Passoon in her hometown. Seeing the impact individuals such as Greta Thunberg have had, I felt it was equally important to amplify the voices of young climate activists from developing countries such as Pakistan," she said.
Sarah wanted to tell a story about climate change because she wanted to showcase the cost humans have to pay due to climate change.
About Sarah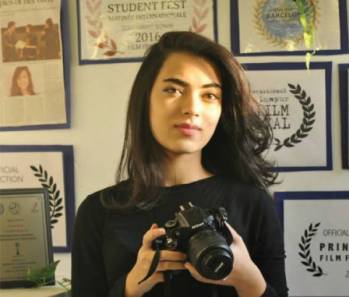 Sarah is an Oxford University undergraduate from Pakistan. Her filmmaking work focuses on the link between climate change and human rights, and documents indigenous, local adaptation methods to climate change. Her films have won over 18 awards internationally. She was featured in the BBC's list of 100 Women for her environmental advocacy.
Like a popular environmentalist Greta Thunberg, Sarah too has spoken at various platforms including Harvard University, SXSW, Paley Center for Media, and universities across Pakistan on the link between women's rights and climate change.
She is proud of her recent win as she believes that it gave her the chance to highlight an important worldwide issue of climate change. Also, promote young leaders of the country contributing to the same cause.
Well, we are proud of you too girl!
What do you think about the story? Tell us in the comment section below