Women in Pakistan, being the most vulnerable segment of society, are more than often deprived of their basic rights, and face violence. A new incident has emerged where a man cruelly beat his sister-in-law in the middle of a road. As the victim named Sarah Gul asks for justice, all ears turn deaf to the woman who got tortured by her Behnoi.
Violence against women is a topic which has been talked about and written about for decades. We have reiterated it over and over again that such news has become a white noise which we now choose to ignore. While simultaneously ignoring the plight of these helpless victims we contribute to the increasing number of cases.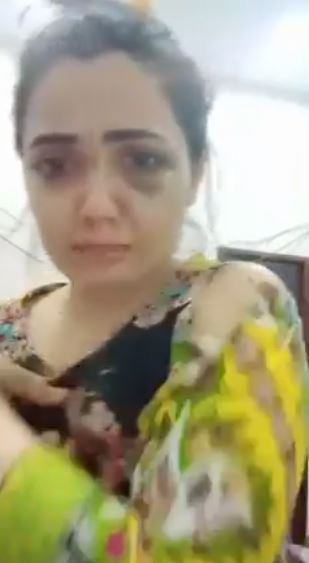 In a recent video that has surfaced on social media from December, a woman, victim of such violence at the hands of her Behnoi (brother in law) who tortured her, now pleads for justice.
While narrating the heinous incident, Gul says, "It has been 3 days, on Saturday morning on 26th December, I was going to work when my brother-in-law came and attacked me from behind in the middle of the street."
"He beat me and tore my clothes. I want justice. Whenever I go to Mehmoodabad Police Station, they tell me my claims are not authentic," she added. "I have also shown them an x-ray of my broken nose but they are still not believing me. My husband is a laborer and I have four kids. I am a poor woman and have no one to help me."
"My brother-in-law tortured me, I have bruises, my nose bone is damaged, my clothes are torn, I want justice, police are not listening to me," Gul pleads DIG Sindh for justice.
Check out the video here
Every one in four women has experienced some form of violence in Pakistan. Be it emotional, physical, or sexual abuse, about 8 million women have faced violence in the country.
In a similar case earlier, a survivor of domestic abuse, identified as Tania, called out her husband for endangering her life. A video surfaced on the Internet, where the woman begged for support. As per the woman, her husband attempted to strangle her, and how she ran away to her mother's place to save her life.
It is incidents like these when we realize the importance of an effective legal consequence for such actions. Until and unless there is an absolute assurance of tough consequences of such actions, our women will constantly be victimized at the hands of the men in our society.
We hope that law enforcing agencies are able to find the perpetrator in Gul's case and put him to justice!
What do you think of this story? Let us know in the comments section below.