Sania Saeed one of the most popular and versatile actresses in our industry headed to the Cannes feature in Joyland. She was looking stunning in a black cotton saree and gracefully walked into the room subconsciously touching her gorgeous crown of short crisp curls that's her signature hairstyle.
She has given us some the iconic roles and performances that no one can forget. She also rejoined famous director Sarmad Khoosat in his "Kamli" which is soon to be released.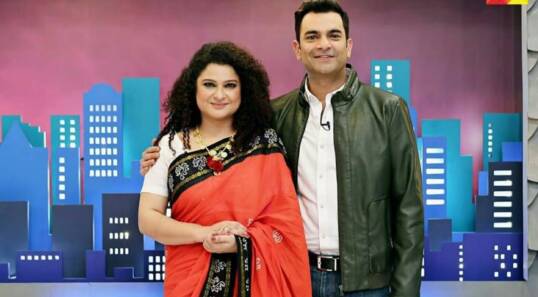 She's returning after seven years with the same director and his best friend. Saeed and Khoosat's trust in each other's craft goes a long way.
Sania Saeed recently sat down with the local publisher, in which she talked about her relationship with Sarmad Khoosat, their film kamli, the characters, and its whole process.
In conversation with Sania Saeed
When an interviewer asked her about the reason behind signing only a Khoosat production after a long hiatus from the big screen, Saeed quipped, "Nobody casts me yaar." Jokes apart, she added that it is true. Fun fact, she wasn't offered a film ever since the 2015 Manto.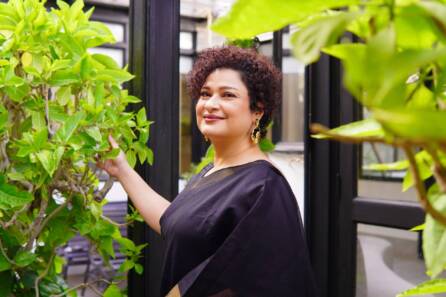 "I chose Kamli because of its compelling and haunting storyline. The simplest and the most honest answer would be that," shared Saeed. "Whenever Sarmad asks for a film, he asks for two reasons.
Either it's because he thinks I should do the story or when he thinks that we should work together on improving the story. This time, it was both."
The film's description looks dark as it's basically about a femicentric film that explores Hina's (Saba Qamar) fairytale-like romance with the wanderer, Amaltas has given her wings, but Sakina (Saeed) pins her down to her dark past.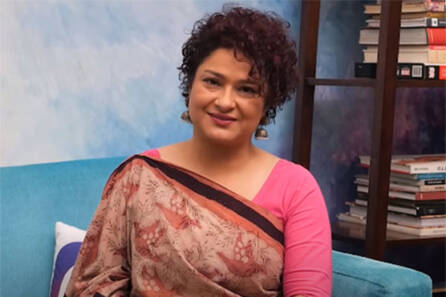 Sania tried not to talk about her character because she knew once she starts talking about it, it might give the idea of the story of the film. But somehow Sania Saeed gave a major hint.
She revealed that "contrary to popular opinion, Saeed is not a mother in the film and her role is opposite of who she is in real life. So much so that the actor had a tough time piercing through the character's skin."
'Mentally it was difficult' – Sania Saeed
She further said, "To be able to align me with Sakina's mentality was a difficult task for me. You know certain reactions come from the way you think, and sometimes your thoughts and actions can be burdensome. Especially when your instincts tell you otherwise but you know your character will do it.
It was strenuous justifying her actions to myself and constantly convincing myself of the reasons that compel Sakina to choose certain pathways."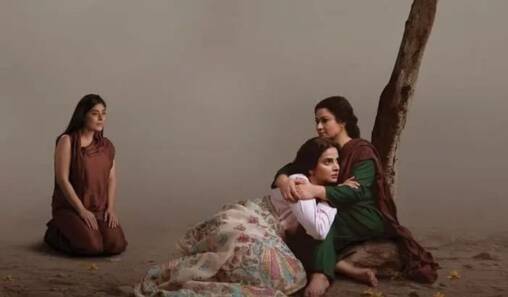 She also talked about  Zarghuna and her traditions in Sang-e-Mah is the closest she's ever gotten to her personality and essence. She even called out the importance of the tradition of Sakina.
"Unlike Zarghuna, Sakina is the guardian of tradition. She has internalized the standards and ways by which the society operates and she makes sure that they're staunched in her household."
She even described Sakina's relation with traditions as "parasitic". She shared, "But how tradition operates, it has eaten off of her and she is eating off of it. Another symbolic element is that she's blind and so she's holding onto something that she cannot see. It's a blind relationship with a concept – one that many can relate to."
The film is very elemental – Sania Saeed
Sania Saeed nodded at the decision being a conscious one, Saeed exclaimed, "The film is very elemental in most ways, even the characters. My favorite thing about Kamli is how honestly flawed the characters are. The way the story moves, it is difficult to play as an actor going through all of that."
She took a long pause in the interview and held her breath to not disclose very much about the film. "The story is intertwined.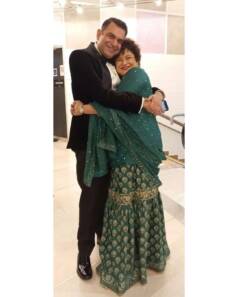 Any detail will reveal it, but all I can say is that the journey of each character is heart-wrenching, even for me. I've played the character, and yet I look back and feel heavy sympathy for it. It's loss, all kinds of it and how to deal with it…It's painful and Sarmad doesn't make it easy."
When she was asked that the trailer's lack of dialogue, the actor said "Sometimes words can kill it. They're needed at places but here, the emotion-heavy film demanded to be expressed only with the art of music and expressions."
Working Experience with Sarmad Khoosat
The interviewer asked her about the working experience with Khoosat, Nimra, and Omair Rana yet again, and the actor rolled her eyes. "I've been working with them for years.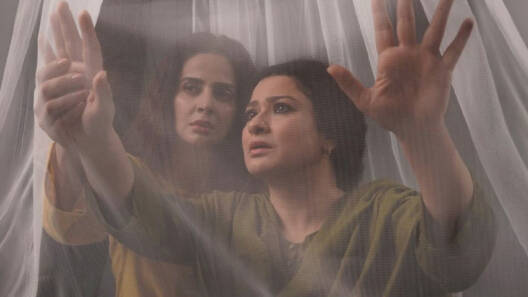 Working with Sarmad is now like working in your kitchen. You know where all the utensils are, where the spices are. You're comfortable. There's no awkwardness or hesitation. We keep experimenting, with a trust that the product will be fine, and the process is always fun then."
Sania Saeed indirectly revealed that she's been secretly a fan of the Baaghi actor. "She's a very present actor. She is always in tune with the other actors, and she makes the effort, which is a very rare quality.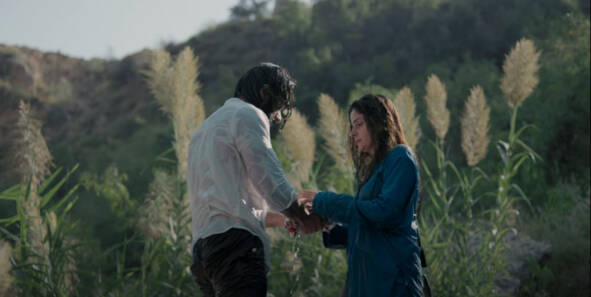 She's aware of other actors' methods and tries to collaborate. It was a lot of fun that way. We'd have one big party on the set. We've talked about life, loss, the storyline, our characters, and its depths – from personal to professional – we created a different bond on that set."
'I don't want to choose' – Sania Saeed
When she was asked about the medium and which one, she prefers the more. She said, that I don't want to choose. "I would always be more inclined to choose a good story.
Mediums do not matter as much to me. For example, the theatre would have the least reach but it has the most enriched stories that I've done so far. Cinema, unfamiliar territory for us, is still growing and of course, you have to be offered a film and that character has to be something you want to do.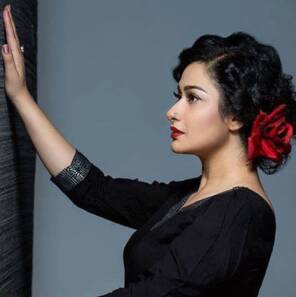 Television, however, is something I'm most familiar with. And also, the medium is most familiar to me. It creates characters for me now and if they give me a character and I say there's potential, it offers me the space to make changes."
What the audience should expect from the big star-studded film, Sania shared, "We are not used to seeing characters that are flawed and nuanced like human beings are. We move as per the convenience of our lazy brains and want to see things, characters, and stories that we can grab and digest. This is not going to be one of those stories."
She concluded, "It will make your move a little, take you to the edge of your seat, it will make you angry, there'll be some knots in your stomach. It will make you hate a character, even fall in love with some,"
No doubt, Sania Saeed is one of the veteran actors and she proved this with her performances in Aahat and Sang-E Mar Mar.
What do you think of the story? Tell us in the comments section below.